Video
Watch: Stray Kids' Bang Chan And 2PM's Wooyoung Are Dance Teachers Of Kang Ho Dong And Super Junior's Shindong In 'After School Activities'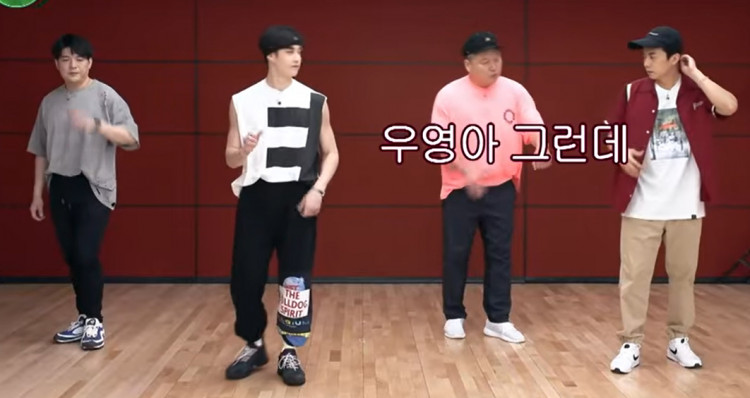 2PM's Wooyoung and Stray Kids' Bang Chan served as Kang Ho Dong's dance teachers on the spin-off show of 'Ask Us Anything.'
JBTC's 'Ask Us Anything's' spin-off 'After School Activities,' showcases cast members in learning new skills through after-school classes. The first student is Kang Ho Dong, who is currently attempting to learn how to dance like an idol from Super Junior's Shindong.
The August 8 episode follows Kang Ho Dong and Shindong at JYP Entertainment learning EXO's 'Growl' and 'Monster' by Red Velvet's Irene and Seulgi.
The first episode shows Kang Ho Dong learning the dance 'She Was Pretty' by Park Jin Young and asked the singer for pointers. Park Jin Young shared that the only regretful part was that he never straightens his elbows. To abide by the tip, Kang Ho Dong diligently practiced sharpening up his necessary skills and perfecting his arm movements.
Later on the show, 2PM's Wooyoung and Stray Kids' Bang Chan came in to become their new teachers. Kang Ho Dong requested that they introduce themselves with a dance, in line with the theme of the show, and Bang Chan energetically put on a performance of Stray Kids' 'God's Menu.'
As Wooyoung and Shindong mentioned to have placed first during their respective agencies' auditions, the group decided on a little friendly competition. They initiated random play dance, covering BoA's 'My Name,' Turbo's 'Twist King,' and GOT7's 'Hard Carry.'
Jealous of JYP artists' choreography, Shindong shared that their choreography always matches the Korean lyrics. He also noted that SM artists' choreography typically focuses more on the performance aspect.
As they started Kang Ho dong's lesson, Wooyoung chose 2PM's 'My House' for the music of their dance practice, which recently saw a resurge in popularity five years after its release. And before proceeding to the lesson, Wooyoung and Bang Chan showed a mesmerizing glimpse into the song's choreography.
They then practice the intro where Wooyoung expressed that the dance appears to flow smoothly at first glance, but actually is tiring. The teachers diligently made their way through the first part of the song before pausing to learn the head-spinning dance move.
The lesson with dance teachers, Woo Young and Bang Chan, will continue next week with full performance and the reactions from Super Junior D&E, 2PM's Nichkhun, and Jessi.
Watch the full dance lesson here!