Music
Emotions Run High: BTS Supports SUGA's 'D-DAY' Tour Finale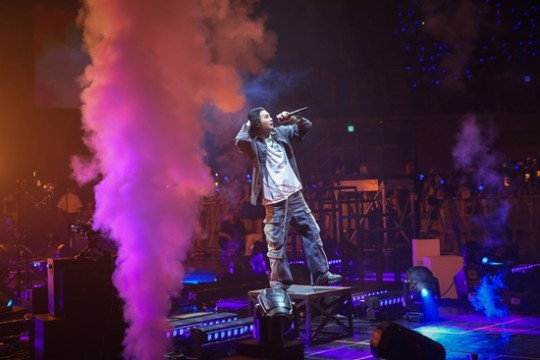 On August 6, the curtain fell on SUGA's solo concert, with all BTS members supporting him to the very end.
SUGA's encore concert, "SUGA | Agust D TOUR 'D-DAY' THE FINAL", was held at the KSPO DOME (previously Olympic Gymnastics Arena) in Seoul's Songpa District on August 6. The concert was live-streamed for the global fandom via the Weverse platform.
Opening the "D-DAY" final performance, SUGA energetically showcased tracks like "Haegum", "Daechwita", "Agust D", and "give it to me". Mid-performance, he rallied fans with a shout of "Let's go!" to which fans fervently responded by chanting his real name, "Min Yoongi". He then expressed, "I'm SUGA, Agust D, and Min Yoongi. We've begun the final, real-last performance. Even though it's the third and last concert, I can still vividly recall the cheers from when I first announced the encore."
SUGA implored the fans, "Since today is the final of finals, I hope you enjoy it fully. Put down your phones and just enjoy with your eyes."
Following performances of "Trivia 轉: Seesaw", "SDL", and "Person + Person Pt.2", SUGA hinted at the next stage segment, saying "The softest section has ended". At the same time, Jin and J-Hope, who were present at the venue, caught the audience's attention as their appearance was projected onto screens. They warmly greeted fans and shared brief updates.
The powerful performances continued with 'That Moon' and 'burn it'. During this segment, SUGA passionately interacted with the fans. The stage for 'Isn't it strange' witnessed a surprise appearance by RM, who joked about his short hair, clarifying that it wasn't a pre-enlistment haircut, but rather due to the hot weather. Adding that "this might be the last live before my enlistment," RM presented fans with an unreleased song.
From "Interlude: Shadow", "BTS Cypher PT.3: KILLER + BTS Cypher 4 Medley", "UGH! + Ddaeng + HUH?!", "Life Goes On", to "Snooze", SUGA gave it his all.
Before performing 'What would it have been like', featuring Nell Kim Jong-wan, SUGA hesitated, "I'm not sure if I can perform the next song properly. I need your voices." As he performed the song, which revolves around a friend who was incarcerated on drug charges, he was overwhelmed with emotion, bringing tears to many eyes. Reflecting upon the emotional rendition, SUGA humbly remarked, "This was a new song prepared for the final concert. I'm sorry. It just happened that way. I feel regretful even asking if it was alright."
Moving on, he shared, "Since today is the last day, the cheering sounds louder than ever. Though it's sad, tonight's show will end." Addressing fans' disappointment, he added, "Now, after these 28 performances, I need to rest."
Finally, with the tracks "AMYGDALA", "D-Day", "Intro: Never Mind", and "The Last", SUGA's solo concert "D-DAY" came to a close. Expressing gratitude, he said, "Through this concert, I've learned and felt a lot. Above all, seeing your happy faces is what I'll cherish the most." He cautiously predicted, "The next time I perform in Seoul, perhaps all seven of us brothers might share the stage," hinting at a potential full BTS comeback.
The "D-DAY" solo concert series spanned from April to June, covering a total of 10 cities including Belmont Park, Newark, Rosemont, Los Angeles, Oakland, Jakarta, Japan, Bangkok, Singapore, and Seoul, with 25 performances in total.