Music
V's Solo Flight: How Will the BTS Member's Collaboration with Min Hee-jin Differ from His Band Persona?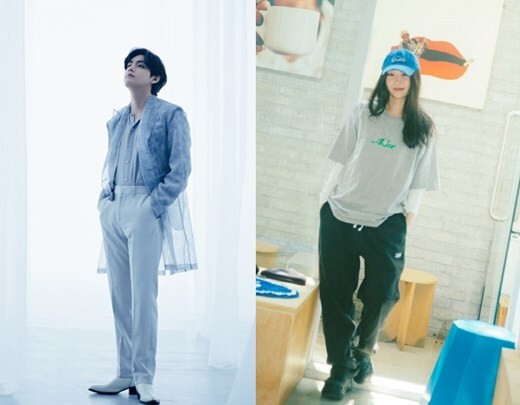 BTS member V has teamed up with Min Hee-jin, the creator of the NewJeans.
On August 2, V's agency Big Hit Music announced that V is working with ADOR's Chief Producer Min Hee-jin on his first solo album.
According to the agency, V personally proposed the collaboration to Min Hee-jin, the chief producer of NewJeans, and he is currently working diligently on his first solo album. Min Hee-jin is overseeing the overall production of the album, including music, choreography, design, and promotion.
Min Hee-jin stated, "I received the proposal at the end of last year. I was hesitant at first due to scheduling issues, but I found V's attitude, passion, and his unique vocal color interesting." She added, "What I would like people to pay attention to once again is the music. We prepared music that reflects V's taste and that I wanted to suggest. Instead of a familiar style, we focused on the music we wanted to do, music that we could well digest. Despite being endlessly busy, I think it turned out to be an interesting work."
V expressed his feelings about releasing his solo album, saying, "I'm nervous but happy." He added, "This album fully reflects my taste. There will be plenty to see," and "I prepared it thinking that the ARMY would be happy. I hope you look forward to it. You'll be able to see a new side of V, the solo artist, different from V of BTS."
Producer Min Hee-jin received acclaim as a pioneer who offered unique concepts and direction, changing the flow of K-pop during her tenure at SM Entertainment. She opened a new era for girl groups by assigning unique visual images and previously nonexistent concepts to groups like Girls' Generation, f(x), and Red Velvet. She also presented sophisticated artist branding strategies through SHINee's 'conceptive' concept and EXO's symbol and worldview implementation project.
Especially after moving to HYBE, as the representative and chief producer of ADOR, she successfully launched NewJeans, once again imprinting her name on the public.
V has been highly loved for showcasing his soft baritone voice and unique deep tone in BTS. Especially through solo songs like 'Stigma', 'Singularity', and 'Inner Child', V has proven his potential as a solo artist. He has also demonstrated exceptional talent in songwriting and composing through his self-composed songs such as '4 O'Clock', 'Scenery', 'Winter Bear', 'Blue & Grey', and 'Snow Flower'.
With V and Min Hee-jin, each known for their distinct color, teaming up, there's anticipation building around what kind of new hue will be born from this collaboration. The curiosity is also growing about how different the solo V will be from V of BTS.