Music
Nile Rodgers and K-Pop Group Le Sserafim's Intriguing Play in 'UNFORGIVEN' Unraveled"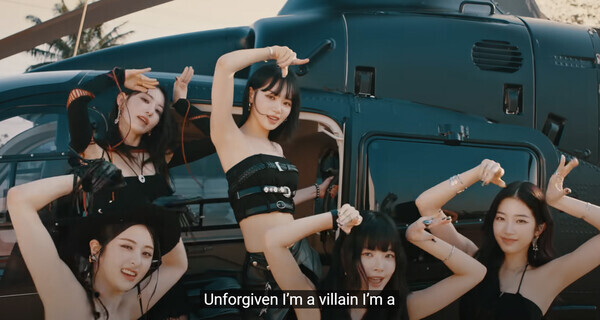 The upcoming release of K-pop group Le Sserafim's latest piece, 'UNFORGIVEN', featuring globally renowned rhythm master Nile Rodgers, has stirred up considerable buzz.
With the release of 'UNFORGIVEN', reactions range from "classic Nile Rodgers" to mixed opinions.
Nile Rodgers lent his guitar prowess to the track. However, the average listener might ask, "Where exactly is the guitar playing?" Such is the subtlety of Rodgers' presence in the song. Rather than a traditional 'guitar session', Rodgers employs a stealthy approach, playing the guitar in a more device-like manner, allowing it to lightly shine through at times. Regardless of the genre, Rodgers is adept at finding the perfect tone, rhythm, and melody that suits the artist, and this is cleverly shown in 'UNFORGIVEN'. He achieves maximum effect with minimal visibility, just like a comma connecting sentences.
Some local guitarists argue that many Korean session musicians could have played this type of guitar session as well, if not better. However, they all agree that the symbolic and charismatic value of the name 'Nile Rodgers' significantly amplifies the significance of the feature.
Guitarist Woojun Choi, also known as Saza, commented, "The collaboration between the American funk legend and K-pop is a testament to the elevated status of K-pop." He added, "Rodgers is playing a rock or alternative riff, which is not typical of his style. It seems more like a session that respects K-pop more than showcasing his own color."
Jung Soo-wook, a producer, ECM guitarist, and professor of Practical Music at Howon University, assessed the collaboration between Leseraphim and Rodgers as K-pop effectively adopting vintage sound. However, he also expressed slight disappointment that Rodgers' trademark wasn't more prominent, suggesting that, "Perhaps the mix was done this way to better appeal to Le Sserafim fans."
Sungryul Lee, one of the top session guitarists in Korea and an active member of the Lim Young Woong band, appreciated the main riff that reminded him of a scene from a western movie and the random mute play that highlighted the rhythm of the chorus part.
For more detailed insight into the world of Nile Rodgers' music, refer to the 'Guitar God' edition featuring 'Nile Rodgers, The Icon of Funky Groove Rhythm Guitar' published in Sports Korea on April 20, 2023.