Awards
'Rising Star of Classical Music' Kang Hyunbin Clinches 1st Place at the 48th International Viola Society Competition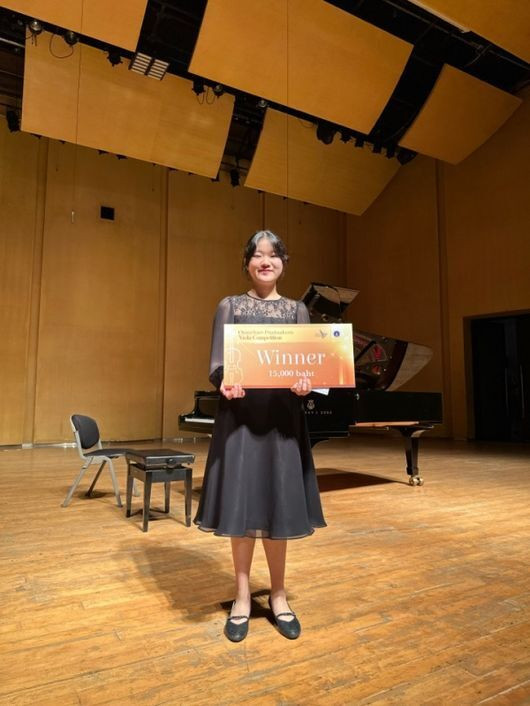 Rising violist Kang Hyunbin has grabbed the top spot at the 48th International Viola Society Competition.
The 48th International Viola Congress, sponsored by the International Viola Society and hosted by the Thailand Viola Society, was held at Mahidol University in Thailand, marking its first time in Asia. The event ran for five days from June 6th to June 10th, 2023, with the 'Choochart Pitaksakorn Viola Competition' opening on the first day of the congress, aimed at discovering young and talented violists.
The location of the annual International Viola Congress is determined through fierce competition among local societies. Previous competitions were held at the Eastman School of Music in Rochester, USA in 2012, and Cremona, Italy in 2016. This year's competition had an age limit between 12 and 28 years old, and after a rigorous video screening process, 12 finalists were invited to the finals.
Of these, two violists of Dutch and Singaporean nationality tied for third place, one Chinese national won second place, and Kang Hyunbin, a second-year student at Seoul Arts High School, emerged as the overall champion. Kang won a cash prize of 15,000 Baht, performance opportunities at future viola congresses, and the chance to take master classes from the invited artists at the ongoing congress.
Jutta Puchhammer-Sédillot, president of the International Viola Society, viola professor at the University of Montreal, and the chief judge of this competition, was deeply impressed by Kang Hyunbin's performance of Hindemith's Viola Concerto. She stated, "Her nuanced tonal changes and well-polished articulation were striking," adding, "The music within her was well expressed and conveyed, making Kang Hyunbin the music itself." Another judge, Thai-born violist Aibek Ashirmatov, also praised Kang after the evaluation, surprised by her young age, saying, "It was like watching an adult's performance."
Born in 2006, violist Kang Hyunbin graduated with excellent practical skills from the Yeowon School and is currently a second-year student at Seoul Arts High School. She is a proficient performer who has won major competitions such as the overseas dispatch competition, Ewha Kyunghyang, Music Spring, Saint-Jung, and the World Daily, and has also performed as a young artist at Seoul Arts High School.
Kang Hyunbin expressed, "I would like to express my deepest gratitude to my viola teacher, Kim Nam-jung," adding, "The teacher teaches me in detail how to step forward with not only the techniques of both hands but also the feet, and how to breathe and gaze. Thanks to that, I was able to understand and enjoy the difficult Hindemith Concerto this time, which led to a good result."
She continued, "I am also grateful to my family who are always supportive, and to pianist Park Hee-min who came all the way to Thailand to perform with me," and added, "Regardless of the result, participating in a competition is always a challenge and growth for me. I will continue to balance my studies and practice, striving to grow into a violist that can step toward bigger stages."
Meanwhile, violist Kim Nam-jung, Kang Hyunbin's mentor, is scheduled to have an invited solo recital on the last day of the 48th International Viola Congress on June 10th.