Celebrity
BLACKPINK's Rosé and Actor Kang Dong Won: Romance Rumors Spark Controversy, Question YG Entertainment's Credibility
Speculation regarding a potential romantic relationship between BLACKPINK's Rosé and acclaimed actor Kang Dong Won has not only ignited discussions among fans but also raised concerns about YG Entertainment's transparency.
Various indications surrounding this alleged relationship have captivated fans' attention, leading to widespread conjecture about the couple's authenticity.
Parsing the Rumor Mill
The rumor has evoked a wide array of reactions from the fanbase. One fan, in response to international criticism, suggested critics "focus on their local websites," indicating the defensive stance taken by some against these circulating rumors.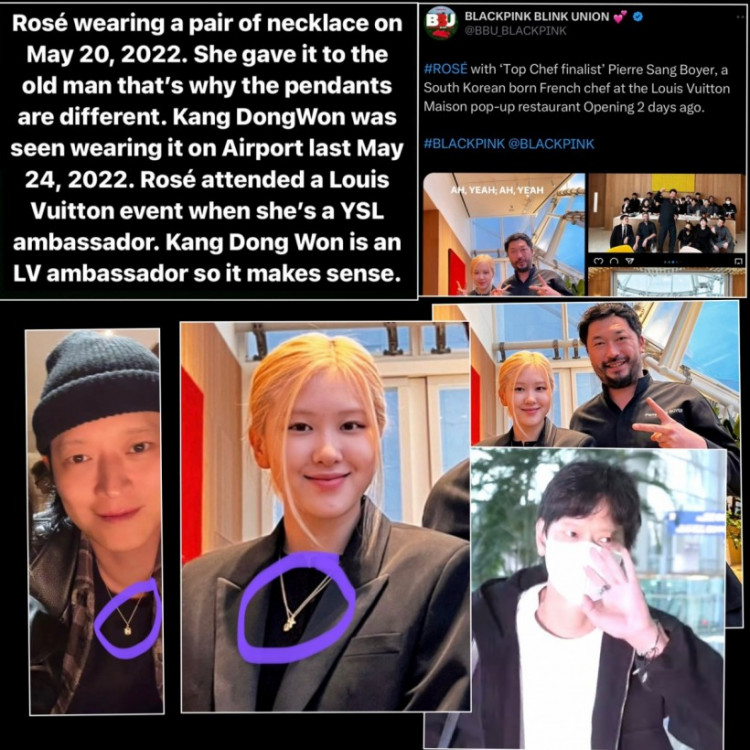 Meanwhile, a segment of the fanbase has been skeptical, pointing out the intellect of Rosé, showcased in her recent Vogue interview. They find it hard to believe that she might be involved with someone significantly older. One such sentiment highlighted, "Given Rosé's intelligence, would she really be involved with someone nearly double her age?"
Sifting Through the Evidence
Fans have not only delved into the supposed relationship but also dissected the various 'clues' presented by public observation.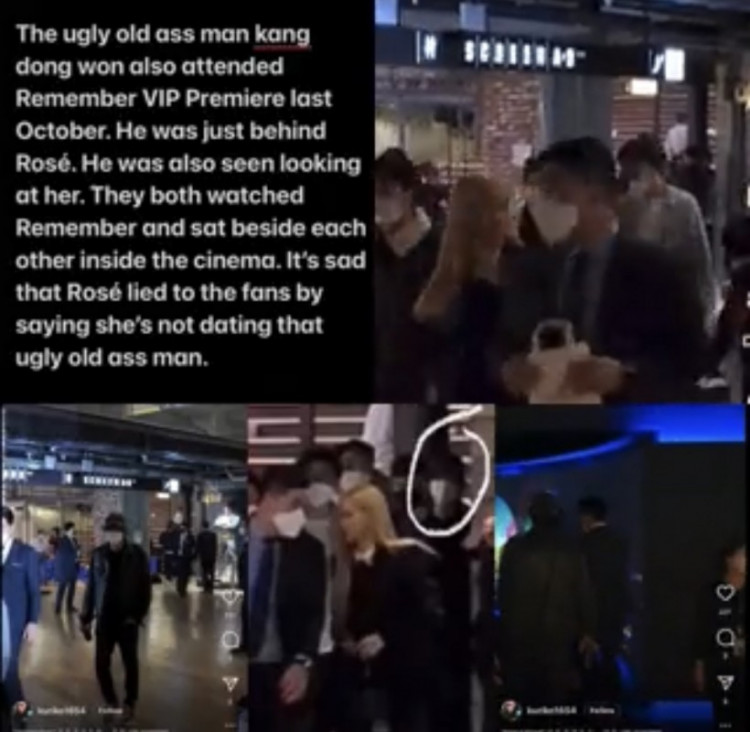 For instance, Rosé and Kang Dong Won were spotted wearing matching necklaces, the John Elliott M.A.R.S Pendant, within days of each other, which has raised eyebrows among fans.
Furthermore, Rosé's appearance at a Louis Vuitton event, despite being a YSL ambassador, led to fans questioning whether her presence was tied to Kang Dong Won's known affiliation with Louis Vuitton.
Signs of Secret Meetings?
Fans have also shown concerns about Rosé's newfound interest in skateboarding and her unscheduled trip to Paris, attributing these changes to Kang Dong Won's possible influence. These shifts in her interests and itinerary have amplified rumors of a potential secret meeting between the duo in Paris.
The significant age difference, with Kang Dong Won being 16 years Rosé's senior, has also sparked debate among fans.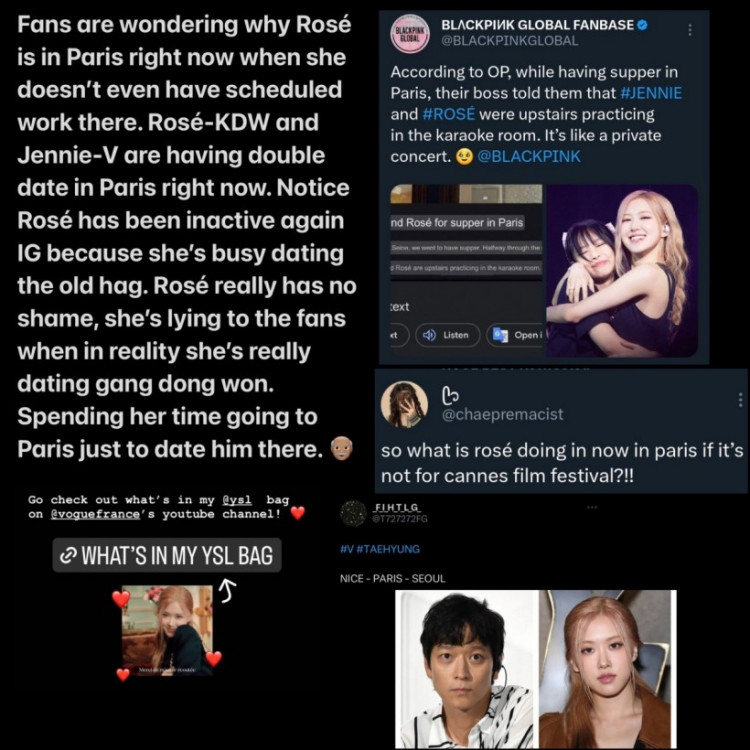 Possible Parisian Double Date?
Fans have been keenly observing not only Rosé's individual actions but also her interactions with fellow BLACKPINK member Jennie and BTS V. The overlapping presence of these stars in Paris has incited conjecture about a possible double date in the city of love.
Given that Rosé's Paris trip had no professional obligations and coincided with the presence of Jennie and V in the city, some fans have hypothesized a potential group outing.
As these rumors circulate, fans and critics alike are scrutinizing YG Entertainment's role in this narrative and questioning the genuineness of Rosé's and Kang Dong Won's alleged relationship. Yet, the validity of these rumors remains unconfirmed.
What Did Korean netizens say?
"Go back to your own country's site."
"Seeing Rosé's interview with Vogue, she's incredibly smart. You'd have to be insane to date someone 16 years older. She seems more likely to date a handsome guy who's 10 years younger."
"Whether they're dating or not... It seems like people who aren't well-off really care about these things. LOL"
"The necklace looks different though."
"Nowadays, even just having the same color necklace is considered couple items."
"Is Kang Dong Won crazy? Aren't there a lot of pretty girls around him?"
"At first, both YG and Kang Dong-won's side did not deny the rumor (essentially confirming it), but it seems like they changed their story because the reactions were very negative. Looking at the unexpected people Rosé met recently or the events she attended, they all seem to have something to do with Kang Dong-won, so I think the rumor could be true."
"Due to the previous article YG released, now even if they say it's not true, more people won't believe them. Why did they release such an article? If you look at the previous actions of YG, it was pretty much confirming it."
"I don't care about Kang Dong-won or whoever, but why is this photo considered a couple's picture? The quality isn't even good and they don't look the same. I'm genuinely curious, it doesn't matter if they're dating or not, but isn't it a stretch to circle these two necklaces and say they're the same? Is it because the pendants are the same? As someone who really doesn't know, it's hilarious because they look so different."
"V was just departing from Nice, and Jennie was already in Paris yesterday. The picture attached was taken by a delusional fan who actually went to the airport. Please stop the nonsense. The person who made the original picture seems to be mentally unstable."
"Sorry to bring up Rosé, but don't drag Jennie into this for attention. Jennie went to Paris yesterday. The delusional fan below talking nonsense is just mentally ill. The manager also posted on Instagram that they were going home yesterday."