Celebrity
Song Joong-Ki Enjoys a Picturesque Cannes Date with His Pregnant Wife: Bliss of Newlyweds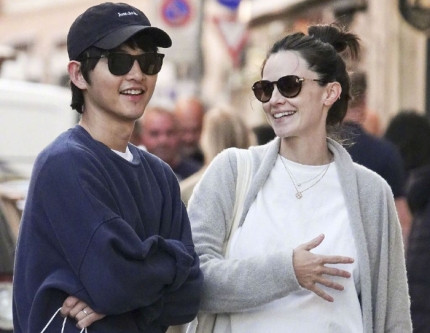 Acclaimed actor Song Joong-Ki spent a delightful time with his wife, British actress Katie Louise Saunders, in Cannes, France.
On the afternoon of May 25th (local time), Song Joong-Ki ventured out for shopping and sightseeing in the heart of Cannes, where the International Film Festival was being held, solely accompanied by his wife. Without managers or friends, the couple enjoyed their time together, with Song Joong-Ki devotedly caring for his wife, who is due to give birth in a month.
Aktör Song Joong-ki, ve eşi Katie Louise Saunders ile Fransa'nın Cannes kentinde tatlı bir zaman geçirdi.
#SongJoongki ve eşi, Fransa'da Cannes Film Festivali'nin düzenlendiği Cannes şehir merkezine alışverişe ve gezmeye gitti. pic.twitter.com/gulZT56odO — Sjkturkeyteam (@Sjkturkeyteam) May 26, 2023
In a previous interview with Korean reporters, Song Joong-Ki revealed, "I am here at the Cannes Film Festival, but my thoughts are focused on my wife and our unborn child," showing his profound love for his family.
Song Joong-Ki also told Newsen on the same day, "I am leaving for Bali in two days for the filming of 'Logiwan.'" His wife, who currently resides in Rome, Italy, where her parents live, flew to Cannes to support her husband, who received an official invitation to the Cannes Film Festival.
Originally, Song Joong-Ki announced, "My wife will attend the official premiere," but she decided not to participate. Given her due date is just a month away, she opted out due to concerns that certain violent scenes in the featured film 'Hwaran' might adversely affect her unborn child.
Meanwhile, Song Joong-Ki received an official invitation to the Cannes Film Festival for his latest film 'Hwaran,' 15 years after his debut in the entertainment industry.
The film 'Hwaran,' in which Song Joong-Ki delivers a stunning performance, was officially invited to the 'Cannes Film Festival's Noteworthy Views' section. 'Hwaran' premiered on May 24th at 11 a.m. (local time) at the Salle Debussy theater in Cannes. The cast, including Song Joong-Ki and Hong Sa-bin, walked the red carpet at 9:30 p.m. at the Grand Theatre Lumiere. The photocall followed the next morning at the Palais des Festival.
In 'Hwaran,' Song Joong-Ki opted for a supporting role instead of a lead. Regarding his participation in the film, Song Joong-Ki explained, "It's incredibly fun to take on the uncertain. It might sound presumptuous, but having experienced a lot of success, I wanted to try something that I personally find interesting."
In 'Hwaran,' Song Joong-Ki plays 'Chi-geon,' a mid-level boss in a violent organization who reaches out to Yeon-gyu (played by Hong Sa-bin), who suffers from domestic violence.
Song Joong-Ki said, "I got to do everything I wanted without the pressure of box office performance." He added, "Leading actors always bear the burden of box office success. It can get tiring. From the audience's perspective, 'Hwaran' can be a suffocating movie. However, encountering this film, I felt a breath of fresh air."