Music
Outshining NewJeans and IVE, WOODZ Perfectly Pulls Off Girl Group Dance Covers at Concert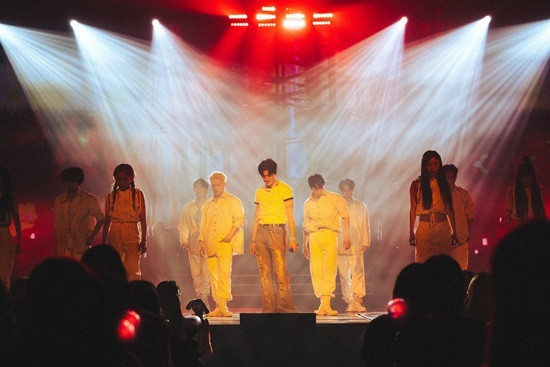 Singer WOODZ captivated the hearts of MOODZ (his fandom) by flawlessly executing from girl group cover dances to the latest trending dance challenges.
WOODZ held his debut world tour '2023 World Tour 'OO-LI' in Seoul' (hereafter, 'We') concert at the Jangchung Gymnasium in Seoul on the 21st.
This concert marked the start of WOODZ's debut world tour, promising encounters with fans worldwide, starting from Seoul, extending to Jakarta, Kuala Lumpur, Manila, Osaka, Tokyo, Bangkok, Mexico City, Lima, Santiago, São Paulo, and adding more cities to the list.
On this day, WOODZ prepared a diverse setlist shown since his solo activities began in 2018, offering a glimpse into his growth. From the charisma of a high-energy rock star to the sweet and lyrical demeanor of a vocalist, he showcased the broad spectrum of his musical world.
Communication with fans was also a highlight. Word of mouth spread about the heated atmosphere of WOODZ's concert from the first day's performance in Seoul, with online discussions around fans' advice of "must have stamina." WOODZ's stage presence, making the audience dance along, was notably impressive.
Amongst these, WOODZ's cover performances cleverly managing fans' pace were particularly eye-catching. His prepared performances covering NewJeans' 'Hype Boy' and IVE's 'Kitsch' sent fans into a frenzy amid his relentless, powerful stage presence.
Having already sparked online discussions the day before with 'Hype Boy' and FiftyFifty's 'Cupid' cover performances, WOODZ impressively introduced a new 'Kitsch' performance for the second day's audience. WOODZ, focusing on singing during the 'Kitsch' stage, said, "I tried to learn the dance, but it was too hard. I thought I wouldn't be able to sing if I danced," but still successfully executed key dance moves, garnering applause.
Additionally, he revealed his passion by promising to separately film and prepare a 'Cupid' performance for fans who wanted to see it. He also unexpectedly performed the currently popular 'Ding Ding Dang Dang' dance challenge online, flipping the venue upside down. Though he couldn't hide his embarrassment during the dance challenge suddenly happening during the band session introduction, WOODZ's sexy vibes with his flexible wave and hip dance received a huge response from fans.
This concert, which fully showcased WOODZ's talents and charm, was a time filled with communication and connection with fans. WOODZ shared his absorbed state in the precious time with fans, saying, "I was a bit nervous yesterday since it was the first concert, but today I'm just excited." In doing so, he revealed his determination to embark on his world tour by saying, "I'll take good care of my health and travel the tour. I'll do my very best," eliciting support for his next move.