Fashion
Jang Won-young, Karina, and the Glamorous Return of 'Smokey Makeup'
The smokey makeup trend, which dominated the South Korean makeup scene in the 2000s, is witnessing a revival after nearly 20 years. It's all thanks to the hottest female idol members in the entertainment industry, who are all embracing the smokey makeup look.
Smokey makeup, a technique that uses dark eyeliner and eyeshadow to create a shadowy effect around the eyes, became a popular trend as stars like Ga In of Brown Eyed Girls and Kim Yuna favored the style, and it quickly spread by word of mouth.
However, as we moved into the latter half of the 2010s, the trend for natural makeup took center stage, and the frenzy for smokey makeup quickly died down. Until recently, makeup trends in South Korea have been led by natural skin expressions with a glow, vibrant lips, eyelashes and subtle shadowing that emphasizes clear eye makeup.
But recently, the boom for smokey makeup has started to pick up again, mainly among popular girl group members. IVE's Jang Wonyoung, who stirred up a buzz by revealing a daring smokey makeup look on her personal social media in March, successfully exuded a charm opposite to her previous image by frequently showing off her smokey makeup during the activities for IVE's first regular album 'I'VE IVE', which was released last month.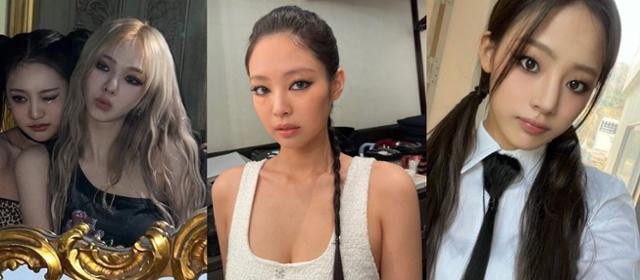 aespa, who made a comeback on the 8th, also emphasized a more mature and chic charm by trying out smokey makeup for their recent activities. In addition, many girl group members are showcasing this style, from BLACKPINK's Jennie, who has often transformed into various smokey styles while showcasing songs with intense concepts, to NewJeans' Minji, who created a surprising charm with smokey makeup that breaks away from her previous image.
The change in makeup trends of girl groups, who have been continuing a healthy and natural concept for a while, is being evaluated as a fresh challenge by the public. There's growing anticipation as to whether the smokey makeup boom brought on by these idols will once again lead to widespread popularity.