Celebrity
BTS Jimin Dominates K-Pop Polls with 'Ten Crowns' Sweep
BTS' Jimin has demonstrated his overwhelming popularity as a top representative K-pop idol in various fan voting polls.
Jimin secured the first place in the global K-pop idol popularity poll, 'KDOL,' during the fourth week of April (April 24 - April 30, 2023), receiving 50,783,588 hearts. This marked his 127th consecutive weekly ranking in the first place.
On April 30, when the daily voting ended at midnight, Jimin captured the top spot in the daily rankings with 2,802,234 hearts. Throughout April, he garnered a total of 149,141,457 hearts, maintaining his position as the monthly ranking leader for 26 consecutive months.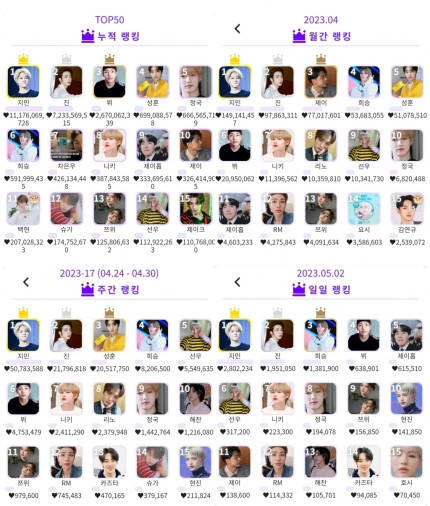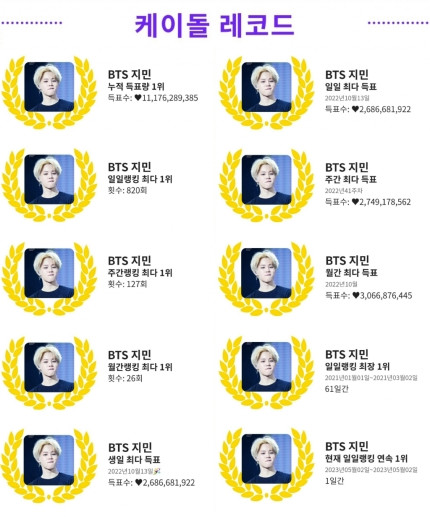 With this achievement, Jimin swept the daily, weekly, and monthly rankings on the last day of April, setting a new record once again. He currently holds a cumulative vote count of 11,176,289,385 hearts, maintaining the first-place position in the Hall of Fame with a significant lead of over 3.9 billion hearts compared to the second-place contender.
As of May 3, Jimin holds ten crowns in the Hall of Fame, including the most daily first-place rankings (820), most weekly first-place rankings (127), most monthly first-place rankings (26), highest daily vote count (2,686,619,922), highest weekly vote count (2,749,178,562), highest monthly vote count (3,066,876,445), highest birthday vote count (2,686,619,922), longest daily first-place streak (61 days), and current consecutive daily first-place rankings.
The global K-pop idol popularity voting service app, 'KDOL,' allows users from various countries, including the United States, Japan, Southeast Asia, and South Korea, to participate in the voting. The app reflects 100% of the users' votes in the rankings, updating in real-time, and tallying daily, weekly, and monthly rankings and total votes to determine the Hall of Fame standings.
In the meantime, as a reward for topping the KDOL's monthly ranking in March, advertisements featuring Jimin are currently displayed at Cheongdam Station and Gangnam District Office Station. Fans can catch a glimpse of these ads until May 18th.