Celebrity
Song Hye-kyo Shares a Sweet Moment with 'Freddie Mercury' Rami Malek, Showcasing Her 'Glorious' Smile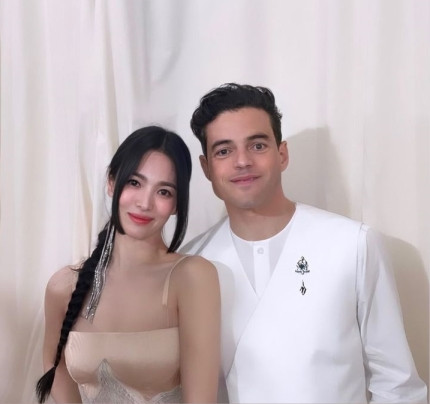 Actress Song Hye-kyo encountered Rami Malek.
On May 2, Song Hye-kyo shared a post on her Instagram from an acquaintance. The acquaintance revealed a photo of Song Hye-kyo and Rami Malek together, along with the caption, "My favorite actress Song Hye-kyo met Rami Malek."
In the revealed photo, Song Hye-kyo and Rami Malek are standing side by side, looking at the camera. Song Hye-kyo, in particular, catches the eye with her stunning beauty and a subtle smile beside Rami Malek.
The two seemed to have met at the Met Gala, the fashion industry's largest event held on May 1 (local time) at the Metropolitan Museum of Art in New York. Song Hye-kyo, who attended the Met Gala for the first time, left a proof shot with BLACKPINK Jennie, model Choi So-ra, and Yang Jakyung.
The Met Gala, held every year on the first Monday in May since 1948, is the world's largest fashion charity gala show, attracting global fashion figures, Hollywood stars, pop stars, and other world-famous celebrities. Many stars, including Song Hye-kyo, BLACKPINK Jennie, Rihanna, A$AP Rocky, Rami Malek, Cardi B, Jessica Chastain, Doja Cat, Billie Eilish, Gigi Hadid, Gisele Bündchen, Anne Hathaway, Kylie Jenner, Kendall Jenner, Kim Kardashian, Nicole Kidman, Jennifer Lopez, Pedro Pascal, Robert Pattinson, Florence Pugh, Margot Robbie, and Olivia Rodrigo, attended the event.
Meanwhile, Rami Malek is a famous actor known for the 'Night at the Museum' series, 'Bohemian Rhapsody', and '007 No Time to Die'. In particular, his portrayal of Freddie Mercury in 'Bohemian Rhapsody' won him the Best Actor award at the 2019 Academy Awards. He will also appear in Christopher Nolan's new film 'Oppenheimer,' set to be released in July.