Celebrity
Late Moonbin's Passing Elicits Wave of Mourning from IU to LE SSERAFIM: 'How Hard It Must Have Been...'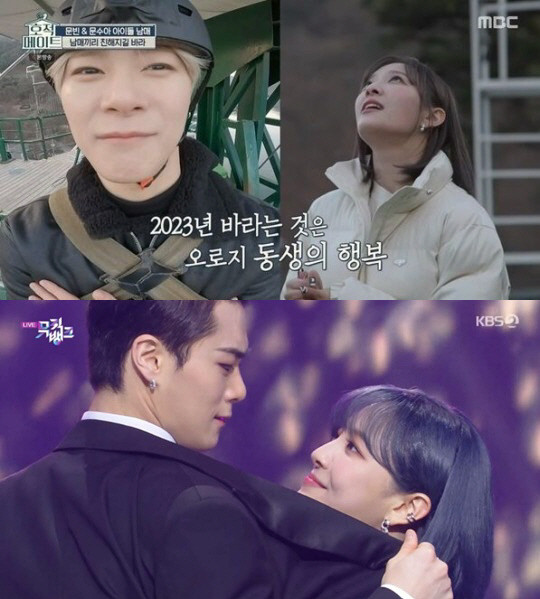 "Don't be in pain, and be well." The entertainment industry continues to grieve following the passing of ASTRO member Moonbin.
On April 19 (KST), Moonbin suddenly left this world at the age of 25. His manager discovered him lifeless at home and reported the incident to the police.
Fantagio, the agency Moonbin belonged to, expressed its sorrow, stating, "On April 19th, ASTRO member Moonbin suddenly left us and became a star in the sky." They added, "We cannot compare to the sadness of the bereaved family who sent away their beloved son and brother, but all the ASTRO members, fellow Fantagio artists, and employees who have been together for a long time are deeply mourning the deceased in great sorrow and shock."
Moonbin had been actively working in the unit group Moonbin & Sanha until recently. They released their third mini-album "Incense" in January and held their first solo fan-concert "Diffusion" from last month. Moonbin was also scheduled to perform at the Dream Concert in May, but his presence on stage can no longer be seen.
Following the news of Moonbin's passing, a video revealing his recent struggle with poor health has resurfaced, adding to the heartache. After finishing his fan-con in Bangkok, Moonbin had said, "I have to confess that it was hard. I tried not to show it, but I think I showed it since the fan-con, so I'm sorry. I'm trying to get better. I'll recover well and make Roha (fan club) happy one by one." Sanha comforted Moonbin by saying, "What do you have to be sorry about?"
Celebrities, both seniors and juniors, continue to mourn the sudden loss. Jang Sung-kyu wrote, "I can't believe it... We only met a few times on broadcasts, but Moonbin was always bright and cared for his family terribly... How hard it must have been... I hope you find peace there... I sincerely pray for the repose of the deceased." Musical actor Kim Ho-young also expressed his sadness, saying, "My heart is heavy... I'm sorry I couldn't keep my promise to buy you a meal..."
Kwon Hyuk-soo tagged Moonbin's account in a post, writing, "I love you so much, really... I'm sorry, thankful, and I miss you... Don't be in pain... Be well... RIP (Rest In Peace)." The two had worked together on tvN, tvN DRAMA 'Behavioral Science Lab,' tvN 'SNL Korea,' and XtvN 'Latest Trend Program.'
Ahead of singer and actress IU's press interview today (20th), the film "Dream" team paid tribute to Moonbin, saying, "We convey our condolences for the sad news and sincerely pray for the repose of the deceased," and requested an embargo on the interview. An embargo refers to the temporary suspension of news coverage for a certain period. IU's interview will proceed as planned, and the article will be sent after Moonbin's funeral procedures are completed.
The group LE SSERAFIM also canceled their scheduled arrival filming for JTBC "Knowing Bros" today, expressing their condolences.
Meanwhile, the group Billlie, which includes Moonbin's younger sister Moon Sua, has halted all schedules. Mystic Story, their agency, announced, "This week's scheduled events have been canceled and postponed," and added, "For the fan signing event, we will provide a re-announcement through a notice later, and for other schedules including broadcasts, we will provide additional guidance on the specific cancellation details." While the reason for the cancellation was not mentioned, it is believed to be a decision made in remembrance of Moonbin and consideration for Moon Sua. Moonbin and Moon Sua, as siblings, had shown their special affection for each other by performing together on KBS2 "Music Bank" stage with "My Q's Candy" and appearing on MBC "Housemate" in January, making the situation even more poignant.
Born in 1998, Moonbin made his debut as a child actor in 2009, playing the young Kim Bum in KBS2's "Boys Over Flowers." He gained further recognition when he debuted as a member of ASTRO in 2016. The funeral hall is set up at Seoul Asan Hospital, and Moon Sua, Moonbin's younger sister and a member of the group Billy, has registered as the chief mourner. The funeral procession will take place on April 22.