Music
BTS Lends Their Voices to Title Track for K-Animation 'Bastions' OST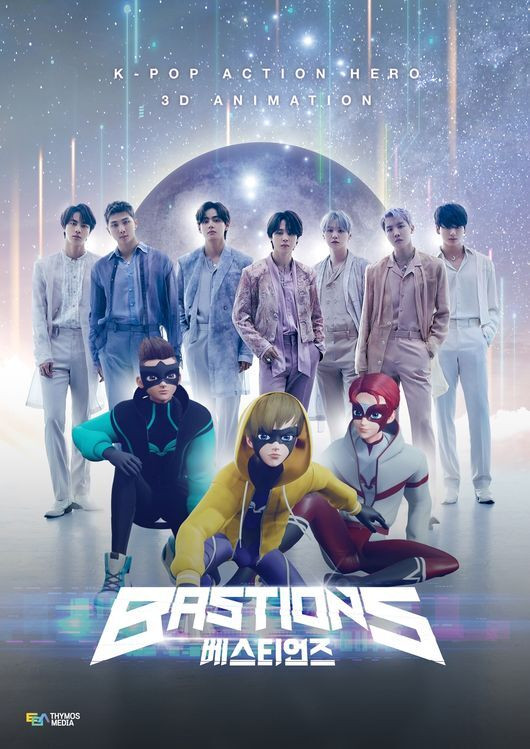 South Korean group BTS is set to support the new animation "Bastions" by participating in the title track of the OST.
According to Thymos Media, a comprehensive media company, on the 14th, BTS will be featured in the title track of the 3D action hero animation "Bastions" (produced and planned by Nable Communications, directed by Kang Seong-hee). With all members of BTS taking part, interest in the soundtrack is heating up.
Along with this news, visual cuts announcing BTS's involvement were released through BTS's official social media channels, "Bastions" official YouTube, and the homepage. The collaboration between BTS and "Bastions" has generated a strong synergy, garnering a passionate response from global fans.
"Bastions" is a 3D action hero animation that tells the story of rookie heroes facing fierce competition in a world filled with popular heroes. The Bastions unveil the true identity of the villains responsible for environmental destruction, saving Earth and growing into genuine heroes.
The animation incorporates the global issue of "environmental pollution" into its hero universe, aiming to spread positive influence and deliver both entertainment and a meaningful message. The collaboration with K-pop artists, a first in Korea, signals a powerful differentiation.
Global artists such as Le Seraphim, former Brave Girls, Heize, AleXa, Seo J, Kang Minseo, and P. Cassady have already created buzz by announcing their participation in the "Bastions" OST.
BTS has transcended K-pop and become a "21st-century pop icon" representing the entire world. They have been nominated for Grammy Awards three years in a row, won American Music Awards five years in a row, and had a total of six songs, including "Dynamite" and "Butter," reach No. 1 on the U.S. Billboard Hot 100 chart. In June last year, they released the anthology album "Proof," which encapsulated BTS's nine-year history, and topped the Billboard 200 chart, proving their world-class prowess.
BTS is expected to create an overwhelming sense of immersion in the title track of the "Bastions" OST with their perfect harmony and emotional depth.
Set to open a new horizon for K-animation, "Bastions" will premiere on SBS on May 14th at 7:30 AM. It will also be broadcast globally, allowing viewers around the world to join in the excitement.