Business
Dispatch addresses rumors of Bang Si-hyuk's 'ties, and claims he's a 'white knight'; insider exposes 'truth' behind HYBE-SM 'takeover drama'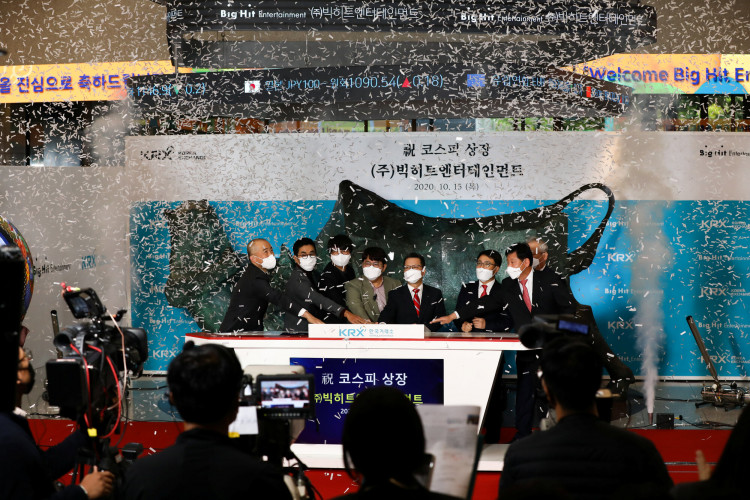 First off, Bang Si-hyuk is not Lee Soo-man's white knight. It was Lee Soo-man's only way out (from being cornered) so this was his only available "EXIT."
The fact that Bang Si-hyuk opened the exit has nothing to do with his (Seoul National University) ties (connections). Taking into account the history created by SM and the future that he [Bang Si-hyuk] can create with SM, his [Lee Soo-man]'s only thought was the value of SM.
This is revealed in the statement made by HYBE.
"Former Executive Producer Lee Soo-man decided to fully cooperate with (HYBE)'s governance improvement work" - HYBE
SM was founded from Lee Soo-man's initials (SM). The company was run with the logic that "I am Lee Soo-man. Lee Soo-man is SM and SM is Lee Soo-man."
The credit is clear. However, it also became obvious. Lee Soo-man raised SM but he was holding SM back.
For example, from 2022 to 2092, Lee Soo-man will eat 6% of music revenue in the name of royalties. However, it's a contract written up only because it is Lee Soo-man (?).
According to Attachment 2 of the 'Like Planning Producing License Agreement', Lee Soo-man will get 6% of music revenue until 2092 and 3% of management revenue until 2025.
In other words, Lee Soo-man can eat 80 billion won more for 70 years despite terminating the contract with 'Like Planning'. Conversely, SM put that much money into Lee Soo-man's bank account.
HYBE clearly organized their position on this relationship. They nailed it down so that SM's share (profit) is no longer wasted into Lee Soo-man's personal wallet.
"During the process of the agreement, it was agreed that he would no longer receive royalties as former general producer Lee Soo-man as a way to show commitment to improving governance." - HYBE
In other words, Lee Soo-man gave up his (post-) royalties he was supposed to receive from SM when he passed over (transferred) his 14% stake. The first step in improving SM's governance was inserted.
"Lee Soo-man decided to fully cooperate in improving the governance structure by transferring his personal shares in SM affiliates to HYBE." - HYBE
Lee Soo-man decided to hand over his stake in Dreammaker and brand marketing shares to HYBE. In other words, HYBE blocked all money leaks from SM to Lee Soo-man.
Is Bang Si-hyuk Lee Soo-man's White Knight?
Bang Si-hyuk did not join hands with Lee Soo-man. He joined hands with SM. On the contrary, Lee Soo-man let go of his hand (holding onto SM). This is what governance improvement is all about.
An official familiar with the "deal" progress explained the "between the lines meaning" to Dispatch.
"Lee Soo-man reached out his hand in a hurry. Bang Si-hyuk took that hand. However, what is noteworthy is the fact that most of the links between Lee Soo-man and SM has been severed with this contract."
The official added, "Lee Soo-man's role has ended."
"The profits Lee Soo-man could siphon from SM are gone. That share will go to the company and its shareholders. Lee Soo-man just handed over his stake and escaped, that's the only way it can interpreted."
He also expressed doubt at speculations that "Lee Soo-man will return to SM again." He asked, "For what reason and capacity exactly will he participate in SM management?"
It's a series of ironies.
SM (current) management could no longer stand by and watch Lee Soo-man unfairly eat up profits. So, together with the activist fund 'Align Partners', they sought to improve the governance structure.
They chose Kakao as their new partner. Kakao's claim to fame was their 'successful listing of Kakao Entertainment.' They were a (good) partner without much interest in management rights.
SM 3.0 pushed Lee Soo-man into a corner. The best he could was put his finger out and nail down their management plans. So he sent an SOS to HYBE (who he had told he would never sell shares).
It's true that Lee Soo-man's determination put a brake on SM's tracks. However, if you look closely, the estrangement with the (current) management and 'Align' etc. has been solved at once.
To prevent Lee Soo-man's unfair profits, they got (SM) out under Lee Soo-man's governance structure. As Lee Soo-man reached out to HYBE, Lee Soo-man had to let go of the SM hand that he tightly held onto.
What remains now is the role of HYBE. Their primary goal is to normalize SM.
"HYBE will still compete with SM. We will compete for the future of K-pop. Hover, before that, we need to normalize and improve their governance structure."
Wouldn't such an SM be really scary? Because the entire history of K-pop is melted into it.
CR: Daily Naver Blog