Music
BLACKPINK Drops Edgy Teaser Posters Of Members Ahead Of New Album's Release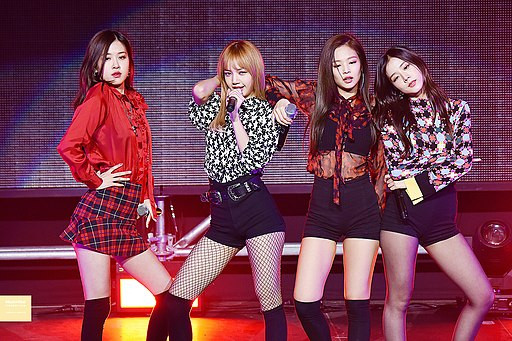 Ahead of the release of its new album "BORN PINK", the four band members of BLACKPINK, namely Jisoo, Jennie, Lisa, and Rosé have released individual posters where each is seen sporting an eccentric look.
The last poster to be released is that of Lisa, who looks fabulous with her vibrant style, eye-catching makeup, and chic hairstyle.
Jennie, who was the second band member after Jisoo to have her solo poster released, wore her black hair in a flowing style, while dressed up in a fancy jacket.
Rosé's poster saw her signature blonde hair done up in a ponytail as she channeled an edgy and sweet style, while dressed up in a large leather jacket and accessorized the look with lace-up boots and chains around the neck.
Jisoo, who was the first to have her poster dropped, wore a skirt-top outfit, which she stylized with a top knot and tiny braids that framed her face.
BLACKPINK is all set to release the album on September 16 with the title song "Shut Down". The pre-release track "Pink Venom", which was dropped on August 16, has been hugely successful. In fact, the mega K-pop girls' group also performed it while making their debut at a US awards show, namely the 2022 MTV Video Music Awards.
"Pink Venom" has also become the first song by a K-pop girl band to spend three consecutive weeks on the UK Official Singles TOP 40 chart.
In other news, BLACKPINK claimed first place in the Girl Group Brand Reputation Rankings for September. It was measured after an analysis of girls' group community value indexes, social media communication, media exposure, and consumer participation with the help of data gathered from August 11 to September 11, 2022, by the Korea Corporate Reputation Research Institute.
Meanwhile, BLACKPINK's "WHISTLE" mv has amassed over 800 million views on YouTube. The mv surpassed the mark at 11:14 PM KST on September 12.
The debut music video was first released on August 8, 2016, at 8 PM KST, which indicates that the mv took a little over six years to earn this milestone.
"WHISTLE" is now the band's sixth music video to reach 800 million YouTube views, the other music videos to earn the accomplishment are "How You Like That", "As If It's Your Last", "Kill This Love", "BOOMBAYAH", and "DDU-DU DDU-DU".