Awards
BTS: K-Pop Mega Idols Reveal True Feelings On Not Winning At 2022 Grammy Awards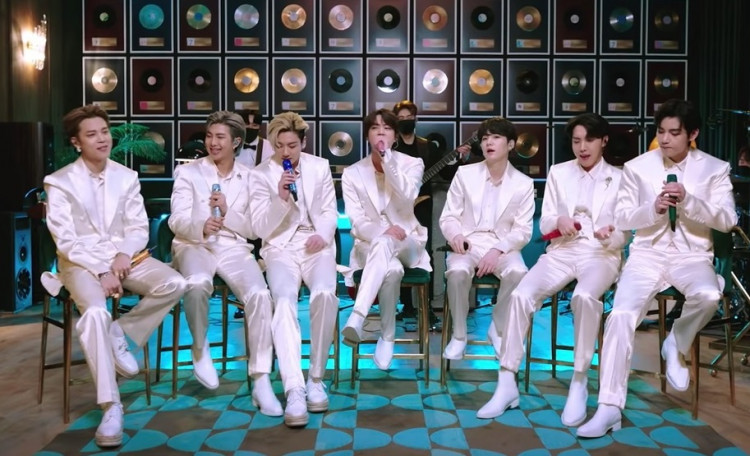 The Kings of K-pop, BTS gave their first Grammy in-person performance at the 64th edition of the prestigious award ceremony, which took place at the MGM Grand Garden Arena, Las Vegas on April 3, 2022.
The Bangtan Boys also became the first Korean act to be nominated not once, but twice for the "Best Pop Duo/Group Performance" award consecutively in 2021 and 2022. However, they got the snub both times.
According to the BTS ARMY, the Grammys was just using the band for clout and tapping into their massive and loyal fanbase would be tuning in to watch.
A few hours after the show, the seven members of the band conducted a VLive session with fans and also spoke about not winning the Grammy.
While thanking the ARMY for their support despite the outcome, a disheartened Jimin revealed his main thought was that winning the award could be a way to repay ARMYs, so he was a little sad but thanked the ARMY that they were able to try again and weren't able to get it but it was still a good experience.
Jungkook and V agreed that it had been a great experience for them and tried to make everyone's mood lighter by asking if any of them were sad. SUGA replied to this, admitting that he was kind of sad, though he added that it was not something to be sad about and what they have done is already amazing.
BTS leader RM felt that he did not have to keep his true feelings hidden from the ARMY and disclosed that it was okay to feel a little disappointed. The oldest member of BTS said that he was not too happy about not winning and that it is good being be honest.
The artist shared that it was all about being sad today and that at that point they were going to have their feelings, and be okay tomorrow when they would feel better and be right back at it. He also added that the group did not have any regrets as they tried their best and gave everything.
Naamjoon also said that they had a good time, though they feel bummed about some things, what really mattered is that they put this amazing performance on camera. Indeed, BTS's slick and smooth performance was one of the highlights of the evening with Billboard even ranking it as the best performance of the night.