Celebrity
BTS: When V Called Suga 'Hero In A Fairy Tale', And Jin Threw Shoes Before RM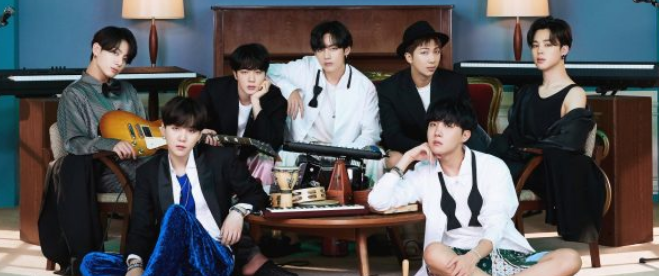 Bangtan TV released a new clip recently, featuring V, Suga, Jimin, and Jungkook sharing light banter and sharing light moments on a set.
In the video, the trio was seen trying their hands at the on-set musical instruments. The clip began with Jimin telling J-Hope that he practiced playing "Butter" on the piano, and promptly went on to sing the song and play it out of tune.
Hearing that, J-Hope laughed and went off. So, Jimin asked him why and continued fooling around with the tunes on the piano.
Meanwhile, V and Suga started their own take with the musical instruments. Suga began with trying his hand at the double bass, pretending to play it, but no tune emerged so he left it. V then followed, trying to figure out how to play the instrument.
As the band's crew members urged the k-pop idols to hurry up, TaeTae gave up playing the instrument. Next, Suga sat on the piano and played a melody. On hearing that, V told Jungkook that Suga played piano like a boyfriend or a hero in a fairytale, which prompted the maknae to burst out into laugher.
Jungkook then went on to imitate the tune Suga was playing, while the latter went on playing, lost in his thoughts. Finally, V also sat on the piano to play it.
A few days ago, in another Bangtan TV Bangtan Bomb special, RM was seen on a set for a photo shoot, trying to give good individual shots for the FESTA family portrait. He went on getting interrupted by Jin, who was out of the frame. However, it looked like Jin was trying to help the team capture the most fun and innovative photos of RM.
The "Super Tuna" singer took off his shoe, and first threw one and then the other at RM! Thankfully, the shoes never landed on the BTS leader and just fell in front of it, however, the mid-air shoes were captured on camera.
Next Jin took off his blazer, removed his mobile phone carefully from the inside pocket, and threw it in front of RM. The result was a hilarious photo.
Watch the cute clip here.
BTS are on an extended vacation since coming back from the US in December. They were supposed to make the first public appearance after the break for the Grammy Awards 2022, but the award ceremony has been postponed indefinitely.