Celebrity
BTS's Commercial Influence in Southeast Asia Is Massive
By this time, we can safely say that BTS has become a worldwide boy band sensation.
For the past years, the K-pop stars have consistently reigned the top charts and earned themselves a huge global fan base, aka the "BTS Army." And they're one hell of a devoted bunch. A previous study revealed that a devoted member of the Army would spend an average of $1,422 on the group's merch, concert tickets, and albums.
Brands must have been leveraging on BTS' global influence as the K-pop group earned an impressive roster of brand endorsements and collaborations over the last three years, the latest one being McDonald's.
That said, how much did brand interests surge in Southeast Asia after getting BTS as ambassadors? iPrice Group has come up with an answer.
Which BTS Collaboration Is the Most Successful?
According to iPrice's latest research, which listed down six of BTS' notable brand endorsements/collaborations in the past three years, Google searches on a brand can surge more than 80% after a collaboration with BTS.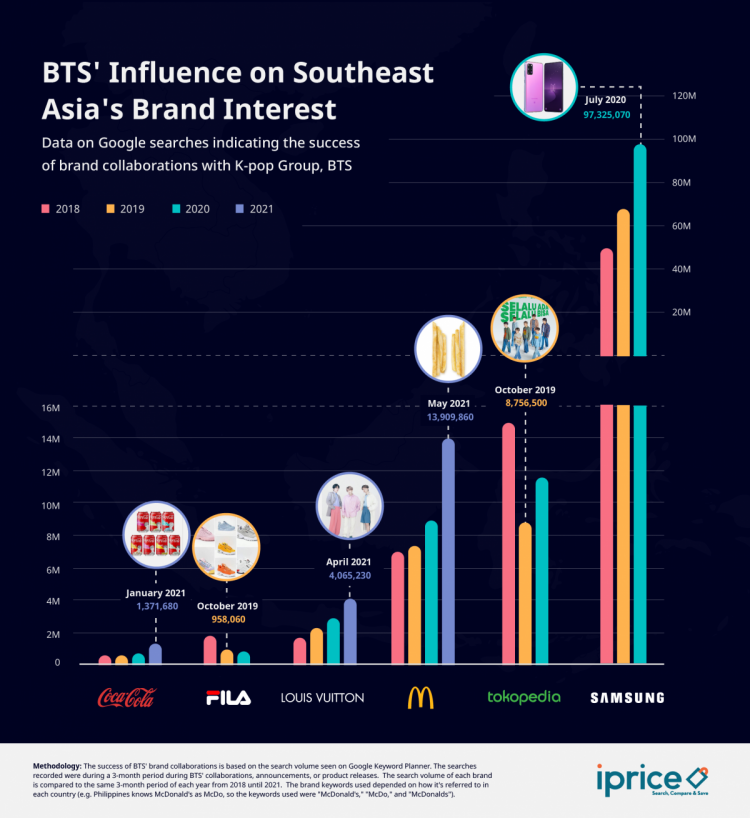 BTS' recent collaboration with McDonald's earned the fast-food chain a 57% increase in interest compared to the same period last year. More impressively, the Korean boy band's collaborations with Coca-cola and Louis Vuitton have driven interests to surge by 83% and 44% respectively, as compared to the same period in the previous year.
In July 2020, Samsung released a BTS edition of Galaxy S20+. The release of this phone sent Samsung's Google searches soaring by 43% compared to the same period of 2019.
The only brand that didn't see as much success was Fila. In late 2018, the brand had a huge spike in interest after Footwear News named Fila Disruptor 2 as Shoe of the Year. After the news died down, the searches for the brand had immensely decreased, and started to spike during BTS' collaboration in late 2019. Comparing both periods, however, the brand's search interest is actually 45% lower compared to the period when Fila was awarded the title Shoe of the Year. Yet the shoe brand still had higher interest (by 20%) in late 2019 compared to the same period the next year (2020).
Perhaps BTS may be more influential in certain categories than some. Maybe sports shoes would get more success if they paired up with an athlete instead of pop sensations. iPrice leaves it up to your interpretation.
Lastly, a unique pair was forged between the K-pop Group and Indonesian shopping site, Tokopedia. The e-commerce site was experiencing a decline in the region's interest in 2019, which could probably be why they tapped BTS as brand ambassadors in October of the same year. Comparing its brand interest in 2018, there was actually a staggering 41% decline. However, the following year, as their partnership with BTS continued to roll out, interests increased by 32%.
Southeast Asia's BTS Bias
So, what is it about BTS that makes their fans go gaga? Is it the catchy tunes? High-budget music videos? Impressive live performances? Or the charm of each BTS member?
It must be the whole package, but let's not ignore the influence of each BTS member. K-pop fans have come up with a term called "bias," which essentially means their favorite member. And with this in mind, iPrice also wanted to determine who Southeast Asia's top BTS biases are.
The top 1 BTS bias is hunky V, who accounts for 26% of the region's Google searches. Trailing behind are the youngest member, Jungkook, and the group's main dancer, Jimin, who account for 25% and 20% of the interests respectively. They are followed by Suga (10%), Jin (9%), RM (6%), and J-Hope (3%).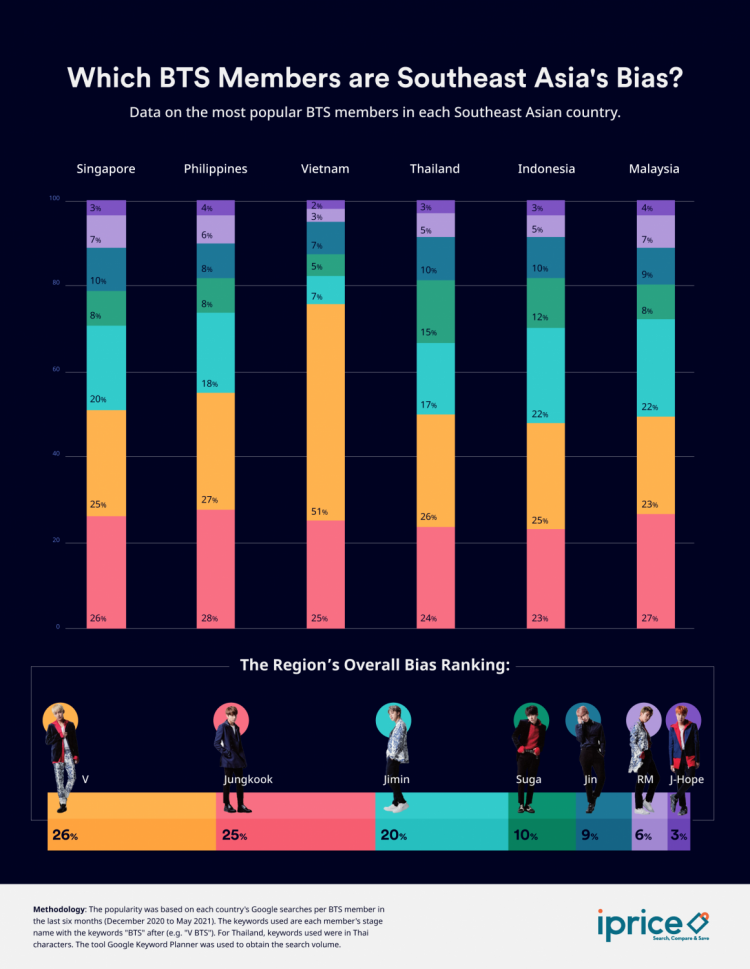 For all countries observed, V and Jungkook remain within the top two (though they may switch in ranks 1 and 2), and Jimin seems to be in the top 3 in most except Vietnam. Apparently, Vietnam also has a soft spot for the oldest BTS member, Jin, as he ranks as their #3.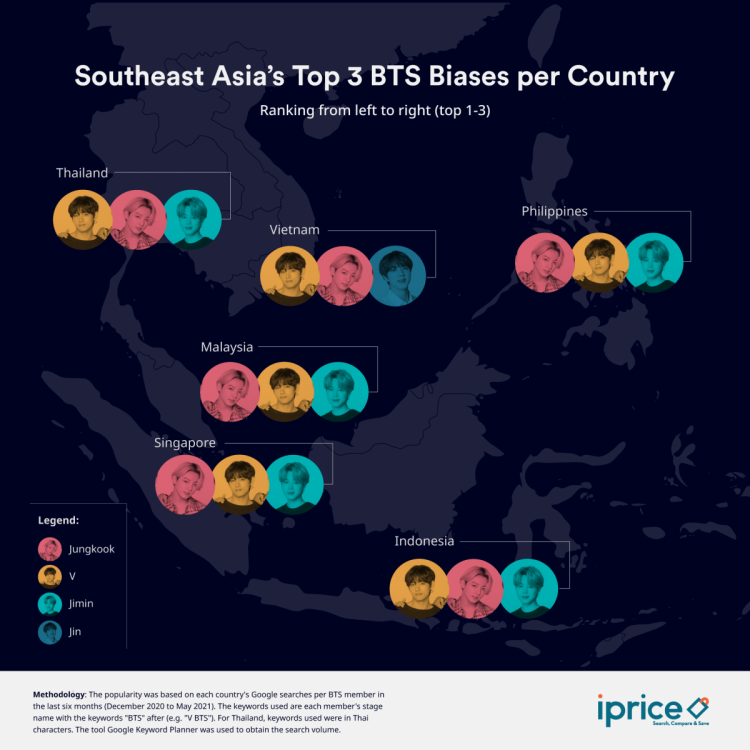 Hence, if brands can't afford the full package, maybe getting one BTS member may still do the trick. Afterall, iPrice's older study proved the huge success of a single Black Pink member's collaboration with Yves Saint Laurent last year. A single BTS member may just garner the same success or even more.
About
iPrice Group

iPrice Group is Southeast Asia's leading online shopping companion. With a mission to bring a greater level of transparency, convenience and trust to the e-commerce market across Southeast Asia in order to help people save money, the company today operates in seven countries across Southeast Asia namely Malaysia
,
Singapore, Indonesia, Thailand, Philippines, Vietnam, and Hong
Kong. Currently, iPrice compares and catalogs 6+ billion e-commerce offers from more than 2 million sellers, attracting more than 35 million monthly visits across the region. iPrice currently operates under its own brand iPrice and through various partnerships with leading apps, such as SmartPay (Vietnam), Boost (Malaysia), GoRewards (Philippines), Home Credit (Indonesia) Visense (Singapore), Robinsons rewards (Philippines) & Boost (Malaysia).