Celebrity
Kim Jung Hyun To Join Seo Ji Hye At Culture Depot Amid Dating Rumors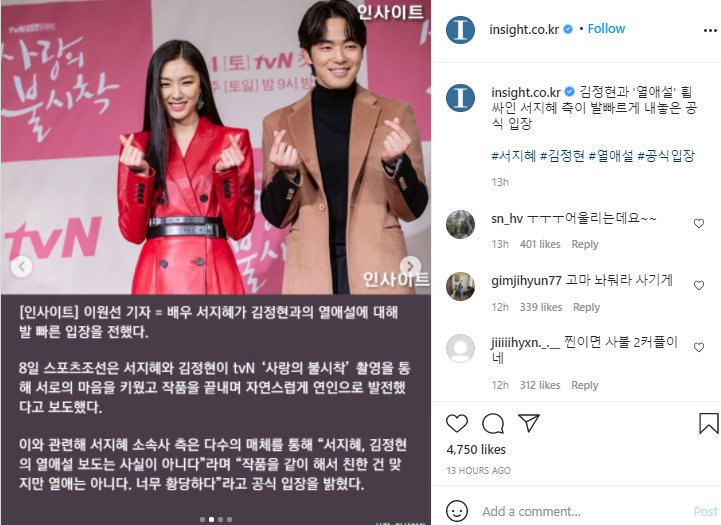 Kim Jung Hyun does not have plans to renew his contract with his current agency and could be joining his rumored girlfriend Seo Ji Hye under the same management.
Culture Depot, which has managed Seo's acting career since 2018, has confirmed with Soompi that they are in talks to secure an exclusive contract with Kim. The actor has been with O& Entertainment since his debut on the big screen in 2016.
The agency has also released a statement denying that the two stars, who worked together in the 2019 Netflix hit series Crash Landing on You, are romantically involved. Dispatch reported that Kim and Seo have been together for more than a year and have photos to prove that they have been meeting up and visiting each other at their homes. According to the news outlet, Kim and Seo live within walking distance from each other.
Apparently, the co-stars hit it off so well that they continued their friendship after filming Crash Landing on You. Soon after the show ended, the dating rumors surfaced, but Culture Depot has repeatedly denied they are a couple. Sources said that Kim has fallen in love with Seo for her wit and beauty while she fell for Kim's focus on work and enthusiasm for life.
Amid the latest dating rumors, the agency confirmed that Kim and Seo have indeed maintained a close relationship, especially since they are neighbors. However, the agency denied they are romantically involved despite the photo proof that came out in Dispatch.
Culture Depot said in a statement that Kim and Seo have been meeting up to discuss work. Since there is a pandemic, the two have decided to discuss at each other's houses.
According to reports, Kim has been having issues with his current agency. Apparently, O& Entertainment denied that he left his MBC TV series Time in 2018 for health reasons. Instead, the company said their talent quit the show for a "personal issues involving a woman" and that he wasn't being professional during the press conferences for the drama series.
Kim is supposed to have 11 more months to his contract with O& Entertainment, but the agency didn't account for his hiatus. According to Culture Depot, as far as they are concerned, Kim would become a free agent in the next month.
However, fans of Crash Landing on You have been elated over the Dispatch news and photos despite Kim and Seo's denial. The first leads of the series, Hyun Bin, and Son Ye Jin, have also vehemently denied the rumors they are romantically involved. However, at the beginning of 2021, Hyun's management issued a statement confirming that have been together for some time and Son also shared an Instagram post confirming that she's been happy with her relationship with Hyun. (Business Times)