Celebrity
2PM's Taecyeon Asks G-IDLE's Soyeon For A Collaboration After Learning She's A Huge Fan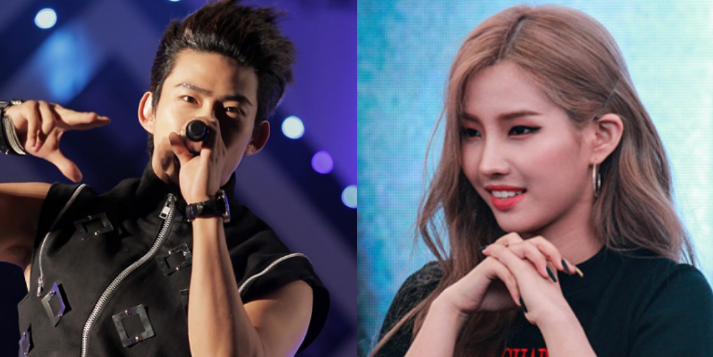 2PM's Taecyeon is up for a music collaboration with G-IDLE's Soyeon after learning she's a fan of their band!
On January 30, Saturday, 2PM's Taecyeon updated the fans on how much a fangirl G-IDLE's Soyeon is to her senior artists. Taecyeon uploaded a YouTube content with a caption that reads, "Jeon Soyeon, a True Fan of 2 PM Sunbae-nims [senior artists]," the new content is about Soyeon going to their live concerts, covering 2PM's choreography song on the spot and more.
Moreover, Taecyeon added a caption on his official Twitter account when he shared the YouTube link. He mentioned that since Soyeon is a big fan, she could write 2 PM, which adds up to a ton of laughter from the netizens.
Fans know G-IDLE Soyeon's capabilities as an artist as she is a well-known songwriter and K-pop idol. G-IDLE's Soyeon previously worked on some of the best hits of her group, including 'LATATA,' 'HANN,' 'Lion,' and more.
Soyeon did not only shared her talent with herself and her group but also ventured on helping out other artists in the K-pop scene by taking part in writing their songs, including CLC's 'No,' Girls Generation Hyoyeon's 'Dessert,' and Apink Namjoo's 'Bird.'
Fans greatly believe in Soyeon's natural gifts as a singer and a K-pop idol as she was able to lend the extra mile in making her skills grow and get the chance to collaborate with some other artists.
G-IDLE is up to date promoting their track, 'HWAA,' which incredibly bags seven music show victories as of this writing. Furthermore, it is finally confirmed that 2 PM is up to something big as their agency announces their full-membered comeback right after 2PM's Junho is relieved from his military duties.
Meanwhile, 2PM's Taecyeon is currently gearing up for his upcoming tvN drama series, 'Vincenzo' slated to premiere in February. Check out the YouTube video, 2 PM Taecyeon uploaded on his channel below:
Tune here on The KpopReporter for more updates!