Celebrity
BTS Jimin Adds Hollywood Actress Sharon Stone To His List Of Celebrity Fans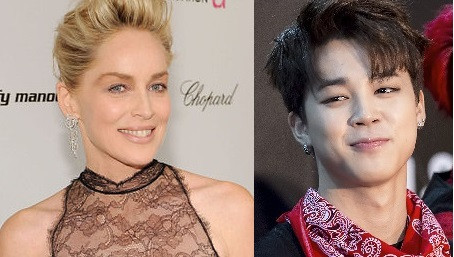 The American actress and former fashion model, Sharon Stone, who has been a recipient of a Primetime Emmy Award and a Golden Globe Award and has garnered many acting nominations, has recognized how adorable the ARMYs baby Mochi is.
Read to know how Sharon Stone was captivated by Jimin's charms.
The Captivating Cuteness And Charms Of Jimin
It can be recalled that the King of Pop, Jimin, act as the host of "The Late Late Show hosted by James Corden" on December 1, 2020, during the BTS's performance of Dynamite on the show. The photo of Jimin's cute portrayal was shared on the show's official Instagram account.
Just as fans thought, captioned as "The Late Late Show with Baby Mochi has a nice ring to it," the photo earned so much love and support from fans all over the world.
But despite the many who shared their admiration for Jimin's photo, one has stood out. It is from the famous and award-winning Hollywood actress Sharon Stone, commenting "Adorable" on Jimin's image.
The Admiration That Left The Fans Gushing
Sharon Stone's compliment was unexpected in that it drew media attention in South Korea. News articles were immediately circulated, and features about the topic were highlighted on some news broadcasts.
Getting the attention of one of the most sought actresses in Hollywood only proves that Jimin is full of charms and can recruit new fans, including celebrities.
Korean netizens were quick to discuss such impressive news and exchange their thoughts on a public forum. Some of the comments include, "Jimin is adorable and fascinating, while Sharon Stone is hot and such a great Hollywood actress," "Our Jimin is adorable,"
"Amazing. That's Sharon Stone," "Awesome. Our Jimin is a worldwide adorable baby mochi," and "Jimin's popularity is not a joke. There are a lot of mentions from overseas stars."