Celebrity
Sandara Park And IKON's Jinhwan Surprises Filipino Fans With A Cover Of 'Dahil Sayo' As Christmas Gift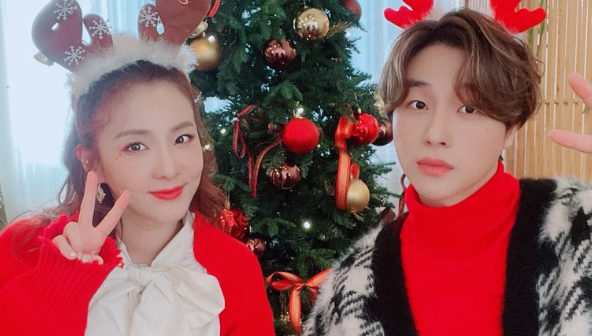 Former 2NE1' Sandara Park and IKON's Jinhwan has surprised their Filipino fans with a cover of Inigo Pascual's 'Dahil Sayo' track.
On December 26 Saturday, Sandara Park officially revealed their surprise cover of 'Dahil Sayo' by Inigo Pascual through her Twitter account. Sandara Park also sent her Christmas wishes to fans and uploaded the clip on her YouTube account to repay fans' undying love and support for their activities.
The two seemed to show cute chemistry with one another as they sing Original Pinoy Music (OPM) while wearing adorable outfits in a Christmas background. Fans are gushing over this cute cover of IKON's Jinhwan and former 2NE1's Sandara Park of 'Dahil Sayo' as Jinhwan shows great language versatility in performing the song.
Moreover, the pronunciation from the pure Korean blooded Jihnwan is greatly commended as the lyrics are being heard clearly. Sandara Park, on the other hand, as fans know, started her career in the Philippines and is fluent in the Tagalog language.
At the beginning of the video, Sandara Park did not forget to greet 'BLACKJACKS' (2NE1 fandom), to whom she refers to as one of her biggest fans since her debut days in the girl group 2NE1. Fans have mixed reactions to this unique cover of Sandara Park as she was able to convince IKON's Jinhwan to perform with her; some netizens are commending him for participating and showing his truly gifted singing skills.
Meanwhile, as the 'Dahil Sayo' cover circulates and gains positive remarks on social media, the singer Inigo Pascual reacts and comments on this cover. The Filipino singer commented on her YouTube video, saying, "Jay and Ate Dara, making this song so much better; Merry Christmas!"
Check out IKON's Jinhwan and former 2NE1's Sandara Park's cover of Inigo Pascual's 'Dahil Sayo' clip below:
Tune here on The KpopReporter for more updates on your favorite idols, comebacks, debuts, and more.