Video
WATCH: BTS Gifts ARMY A Holiday Remix Of 'Dynamite'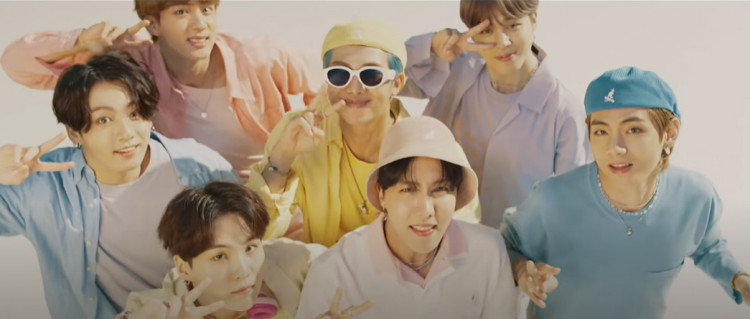 Gift giving is here! Who would have thought Dynamite could be a Christmas anthem? Check this out!
BTS dropped another Dynamite gift to fans
The Grammy-nominated K-pop group from Big Hit Entertainment, BTS, unpacked another gift that has been wrapped solely for the merriest season of the year. That said, Allkpop delightedly reported that BTS dropped Dynamite (Holiday Remix).
Undoubtedly, BTS's goal continues to be achieved, making sure its beloved ARMYs from across the globe will be hyped for the Christmas and New Year season.
For the time being, Dynamite (Holiday Remix) is available for streaming and downloads from across the globe, Bandwagon Asia finds. As the world is about to celebrate Christmas day, the new track is perfect for the holiday playlist.
Alongside the new charming music brought by the band's first full-English track, a self-cam music video was uploaded on BANGTANTV's Youtube channel. The video is a familiar setting, as it is the same ensemble where BTS joined hands with Disney for a performance of Santa Claus Is Coming To Town on its sing-along show.
Unfortunately, to the dismay of fans, Suga is still not included. To date, the BTS rapper is still recovering from a shoulder operation but is slated to come back very soon.
Furthermore, the Dynamite (Holiday Remix) self-cam video and the track was released on December 11 (Friday), per Soompi.
BTS gave out a warning for the new gift
The world's most phenomenal K-pop group already announced the new rendition of Dynamite before officially releasing it. The official Twitter account of the all-South Korean boy band posted a tweet, revealing the recent stint.
Moreover, Dynamite (Holiday Remix) adds up to BTS's long list of achievements this month. From winning big at the 2020 Melon Music Awards and 2020 Mnet Asian Music Awards to being named TIME magazine's Entertainer of the Year.
Well, expect more from BTS before the year ends!