Celebrity
BTS's 'Map Of The Soul: 7' Makes It To Rolling Stone's 'The 50 Best Albums Of 2020' List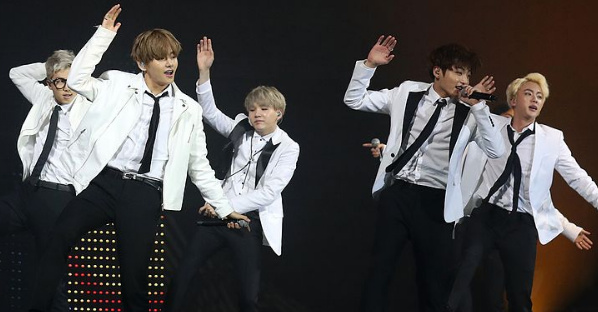 BTS ranks No.16 on Rolling Stone's 'The 50 Best Albums of 2020' and is the only K-pop artists included in Rolling Stone's official list for the 50 Best Album of 2020!
On December 4, Soompi reported that the Korean boy band BTS has made another music history in the K-pop scene and successfully landed at No.16 on Rolling Stone's 'The 50 Best Albums of 2020.' Rolling Stone made quite a remark regarding the group for making it to their list before the year ends.
BTS's 'Map of the Soul: 7' landed at No. 16, followed by Fleet Foxes' 'Shore' at No. 17. Rolling Stone further shared how, despite being in the industry for seven years, BTS members still shine like they just debuted yesterday.
Rolling Stone added that BTS does not charm and gain fans the usual way like other music artists do nowadays, but the septet makes people love them through their unique style, winning their hearts, on their terms.
The septet also showed originality through their music by using their language, which fans, including in America, had the chance to learn their culture, language and embrace it wholeheartedly.
Moreover, Rolling Stone mentioned that BTS's 'Map of the Soul: 7' is the Korean band's most 'complex and personal album' which also possesses their creative ambitions as an artist.
'Map of the Soul: 7' speaks the septet's personal confessions, including the rap part of Suga in 'Interlude: Shadow' and Jin's enchanting track 'Moon,' which completely struck the listener's heart by just using his voice and guitar talent.
BTS at No.16 is joined mostly by other western artists. Currently, the list is dominated by 'Folklore' singer Taylor Swift who released her album back in July. Check out the top 10 best albums of Rolling Stone's 'The 50 Best Albums of 2020' below:
Taylor Swift, 'Folklore'

Fiona Apple, 'Fetch the Bolt Cutters'

Bad Bunny, 'YHLQMDLG'

Bob Dylan, 'Rough and Rowdy Ways'

Dua Lipa, 'Future Nostalgia'

Run the Jewels, 'RTJ4'

Waxahatchee, 'Saint Cloud'

Lil Uzi Vert, 'Eternal Atake'

Jessie Ware, 'What's Your Pleasure?'

Phoebe Bridgers, 'Punisher'
Tune here on The KpopReporter for more updates on your favorite idols, K-dramas, comebacks, debuts, and more.