Celebrity
Kyuhyun, 2NE1, and BTS' Jin Featured on 'TMI News' For The 10 Most Shocking Idol Experiences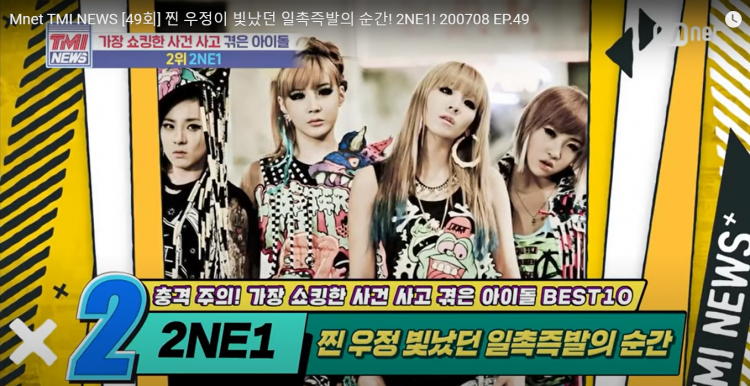 Given the busy schedules of K-pop idols, from promoting locally to going out on a broader stage, it is inevitable for them to encounter unfortunate events in unexpected times.
In the report of Allkpop, Kyuhyun, 2NE1, Girls' Generation's Taeyeon, TWICE's Jihyo, Super Junior's Leeteuk, VIXX's Ravi, and BTS' Jin were included in the Top 10 most shocking idol experiences on 'TMI News.'
The July 8th episode of 'TMI News' featured the most shocking experiences by idols, and some of your favorites have made it to the list.
At #2 On The List Is 2NE1's 2013 Earthquake Experience in Japan
On July 2nd, 2013, Dara shared her scale-9 earthquake experience in Japan while she was on the 34th floor. The earthquake in Tohoku, Japan, was one of the most traumatic experiences of the group.
Dara, who was on the 34th level (while the walls of the building cracked, windows shook, and the landline signals turned off), crawled on the floor to escape and ask for help, Allkpop wrote.
CL, who's also nearby Dara's location, came to rescue her, and they walked down the 34 flights of stairs together. "I felt like even if I were to die, It'd be better to die together, so I went to look for her," CL said.
At #4 Is Kyukyun's Fire Experience in Taiwan
Super Junior's Kyuhyun was in Taiwan for a solo concert in February 2017 when a fire broke out at the hotel he was staying in.
One of Kyuhyun's staff uploaded pictures evacuating the hotel on their personal Instagram account. Fans who saw the post accused staff of leaving Kyuhyun in the burning hotel.
However, Kyuhyun clarified what happened during the incident. He said that during the fire, his manager and staff were in his room preparing for the concert.
They just missed the right timing to escape, and when they heard that the fire had been put out, they just decided to stay in the room.
At #5 Is Girl's Generation's Taeyeon's Kidnapping Incident
In April 2011, Taeyeon, along with the rest of Girl's Generation, was performing "Run Devil Run" at the Lotte World Ice Rink when an over-zealous fan managed to go up the stage and grabbed her.
However, the MC of the show, comedian Oh Jung Tae, and her fellow bandmate Sunny, were able to save her.
At #6 Is VIXX's Ravi, Who Fainted On Stage
Fans were shocked when Ravi fainted on stage during a concert in Mexico in the year 2016. Speculations from media outlets say that it was due to weather conditions and fatigue from their packed schedule.
Meanwhile, organizers revealed that the concert-goers exceeded the maximum capacity of the venue. Also, airconditioning at the hall was broken, causing fans to collapse and rushed out.
At #8 Is BTS' Jin, Who Got Electric Shocked
During the filming of the Anpanman stage, Jin got an electric shock in his inner ear. The singer was severely hurt.
However, the singer was praised for his professionalism on stage despite the incident. "When I saw this, I found his passion on stage impressive," a fan said.
At #9 Is TWICE's Jihyo, Whose Mom Was Scammed
Jihyo became a victim of hacking with her Kakaotalk account. The hacker pretended to be her and sent a message to her mother asking 5 million won through a bank account number.
The scammer claimed that the bank account number belongs to Jihyo's manager. Luckily it was discovered immediately.
At #10 Is Super Junior's Leeteuk, Whose Baggage Was Stolen
Leeteuk, while filming a new show in Switzerland, encountered some assailants who broke into their car and stole several items, including phones and passports.
The singer warned fans through his social media account that they should take good care when traveling. Thankfully, the Super Junior leader wasn't hurt.
Watch the full video of the Top 10 reveal below: