Fashion
SEVENTEEN's Hoshi, Jun, DK, Joshua Strike Charismatic Poses For ELLE Korea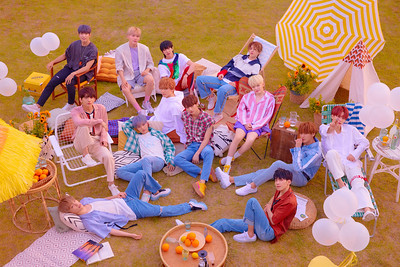 The four dashing members of the all-girl group SEVENTEEN will appear on the forthcoming November issue of ELLE's Korean fashion outlet.
Hoshi, Jun, DK, and Joshua gave mesmerizing poses to
ELLE
Korea
SEVENTEEN's finest, Hoshi, Jun, DK, and Joshua collaborated with ELLE as the four handsome lads showcase its laid-back aura and characters. The attitude gave by the SEVENTEEN quartet highlights the members enlivening visuals, despite the heavy setlist of schedule they follow.
The first photo shared by ELLE Korea had Hoshi, Jun, DK, and Joshua pose a group shot. All of them wore street style outfits while giving off earnest facial expressions. Adding melancholy to the photo is the gray sky behind the four handsome boys.
Furthermore, the four SEVENTEEN members nailed their individual photos. Still, Hoshi, Jun, DK, and Joshua donned street style apparel, while ELLE Korea captures the boys' sophistication.
The four solo photos of the K-pop idols are also styled the same syntax of that their group shot. The gloomy feeling is still existent but taken over by the lads' simple yet moving poses.
Interview with
ELLE
Korea
Shortly after the photoshoot, the K-pop idols sit with the fashion magazine for an exclusive interview.
The boys shared their sentiments towards the newly-launched album entitled Semicolon. Also, the album is a self-produced special album, with a title track called HOME;RUN.
"The purpose of our album is to encourage the youth who are going through difficult times, to take a break and enjoy life," DK exclaimed. The boys also added that they aim to still be in full energy despite the massive demand for their schedule.
As per Jun, the group sees the album's title track as their way of saying that they solely do their job as artists without fearing anything. Jun added that the words from the song are what best describes them as a group.
Meanwhile, the photos of the prominent SEVENTEEN members will be available on ELLE Korea's November issue.