TV
Lee Dong Wook And Jo Bo Ah Exudes Unique Chemistry In Poster Shoot For 'Tale of the Nine-Tailed'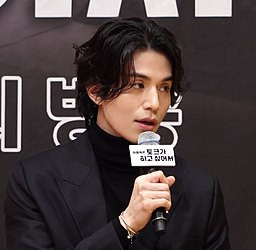 A star-studded cast shooting of their character poses and teasers for tvN's upcoming drama "Tale of the Nine-Tailed."
The behind-the-scenes video gives a sneak peek of Lee Dong Wook on the set of his poster shoot. Lee Dong Wook then shared about his character Yi Yeon who is a gumiho.
Yi Yeon is over a thousand years old, and he is settled in the city. His job is to catch monsters that are roaming around the city and leading them to the afterlife.
He shared that the shotting posters made him realized that the drama is approaching fast. He shared his thought that the poster will have a different feel than the usual dramas.
He hopes that the viewers will look forward to the drama too. The photoshoot also includes him posing as Yi Yeon's favorite mint chocolate ice cream.
The next poster is Jo Bo Ah. Her character in the drama is Nam Ji Ah. She went through an accident when she was still young, and her parents disappeared after. She is fighting on her own as she tries to achieve her main goal, finding her parents.
When Jo Bo Ah and Lee Dong Wook pose for the poster together, Lee Dong Wook stated that Jo Bo Ah looked prettier while she was on break, and Jo Bo Ah replied that he looked cooler too.
Kim Bum plays the character of Yi Rang, the half-brother of Yi Yeon. So his work is to torment and play tricks on humans based on their desires and cravings. He is the type of gumiho that should not be messed with. Kim Bum had fun appearing for the first time as Yi Rang, and he will keep working hard for the film. (Via Soompi)
Look forward to Jo Bo Ah, Lee Dong Wook, and Kim Bum's posters will surely bring more excitement to the viewers.