Fashion
Kim Go Eun Poses For Marie Claire's October Issue With Maximus!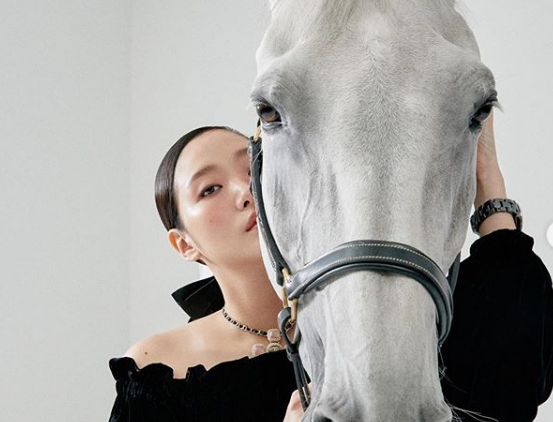 Who would have forgotten Maximus, the white horse who followed Lee Min Ho continually and carried Kim Go Eun to the Kingdom of Corea?
For its fall-winter collection, Kim Go Eun charmed the cover page of Marie Claire Korea's October 2020 edition. Actress Kim Go Eun dressed the publication in trendy attire, including jewelry, all from Chanel. (via KdramaStars)
At the end of the hit series, "The King: Eternal Monarch," she stood beside Baekma Benjamin. "Baekma" in Korean means white horse, whereas "Maximus" is the name given to it in the Netflix hit series. Benjamin is his real-life name.
Kim Go Eun, whereas certainly does look beautiful, dressed in a white-collar and semi-wool crepe outfit, all from Chanel, with Calfskin footwear.
The actress exudes impeccable elegance and impeccable chemistry with Maximus. She wears a white tweed jacket and coat, matching with daring Chanel earrings, gorgeous like a goddess.
By displaying her powerful stance lying back on Maximus, she makes everything all-natural. In recent posts, it has been a while since Kim Go Eun showed up after the popularity of "The King: Eternal Monarch."
It was a global accomplishment that several of her followers worldwide have come to know and love her much more. Spectators also enjoyed the romantic onscreen connection with co-star Lee Min Ho.
"King Lee Gon" (Lee Min-Ho) is the only one lacking in this picture, which would have been what their supporters wanted, a reunion of the royal couple.
However, fans do not need to worry since Kim Go Eun's Instagram account is available for her followers to get engaged and track her operations. Her latest social media account with her niece, her adorable pet, and her activities bring happiness to her supporters.
Meanwhile, Kim Go Eun will appear in the forthcoming movie 'Hero,' teaming up with director Yoon Je Kyun and co-star Jung Sung Hwa. The said film to be premiered in December 2020. Check the pictorial shots here!
Tune here on The KpopReporter for more updates!