Music
BTS V's Recommended Song 'Blazing Sun' Tops Spotify's Viral Song Chart in Japan, Demonstrating His Immense Influence
A song recommended by BTS V has reached number one on Spotify's Viral Song Chart, proving his unique influence.
On the 18th of last month, V posted about the song 'Blazing Sun' by Korean band CHS on Instagram. The band describes their music as 'Tropical Psychedelic Groove'. 'Blazing Sun' brings listeners a relaxing beach mood and romance with an exotic sound.
V doesn't stick to one genre but recommends a wide range of music, giving fans the opportunity to enjoy a wide spectrum of songs. The songs recommended by V have shown remarkable influence, not only on Melon, the largest music site in Korea, but also on music charts in various countries, making a comeback from behind.
'Blazing Sun' proved this by appearing on Spotify's charts in seven countries, including Japan.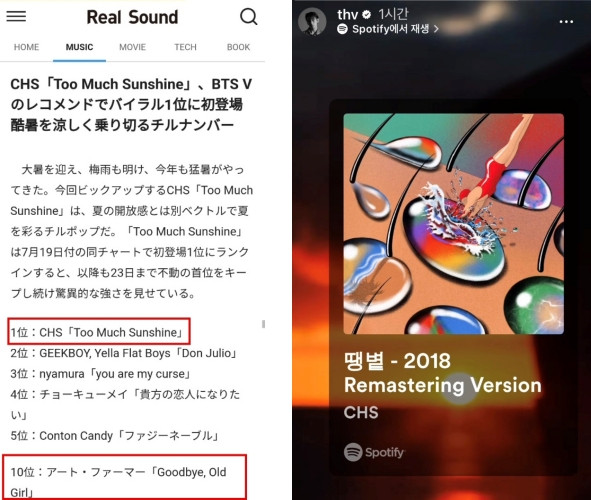 According to the Japanese media outlet Real Sound, the day after V posted about 'Blazing Sun' on his Instagram story, the song appeared on the 'Viral Song' chart of Spotify in Japan and immediately rose to number one.
Real Sound reported, "V, who has over 60 million followers on Instagram, proving his hot popularity when the song appeared on the Viral Chart after he introduced it," and added that the song continues to show remarkable strength, maintaining the top spot.
The 'Viral Song' chart ranks songs based on the number of listeners and how much they empathize with and share the music.
Many artists have expressed their gratitude for V sharing various types of music. Bruno Major, who is set to tour Korea in August, expressed deep gratitude in a recent interview when a song of his became a hot topic after V recommended it on social media and the radio.
Choi Baekho, also known as the romantic vagabond, drew attention by mentioning V at a recent concert. V answered a fan's question on the Weverse fan community on February 20 last year, "What song are you listening to these days?" by revealing he was listening to Choi Baekho's 'End of the Sea,' saying, "Listening to your song has been a great comfort to me."
The real-time search rankings on Melon proved the heated reaction, with 'End of the Sea' topping the chart and 'Choi Baekho' ranking sixth. Choi Baekho has expressed his gratitude several times, stating through TV, radio, and concerts that thanks to V, he is receiving a lot of love from the younger generation.
Along with 'Blazing Sun', 'Goodbye, Old Girl' by lesser-known trumpet player Art Farmer in Korea also reached the top 10 of the chart.
With his recommendations alone, V has shown immense influence, stirring the music charts in Japan, the world's second-largest music market following the U.S.