Celebrity
READ: BTS Jin's Twitter Fan Page Hilariously Compares The Charming Idol To Refrigerators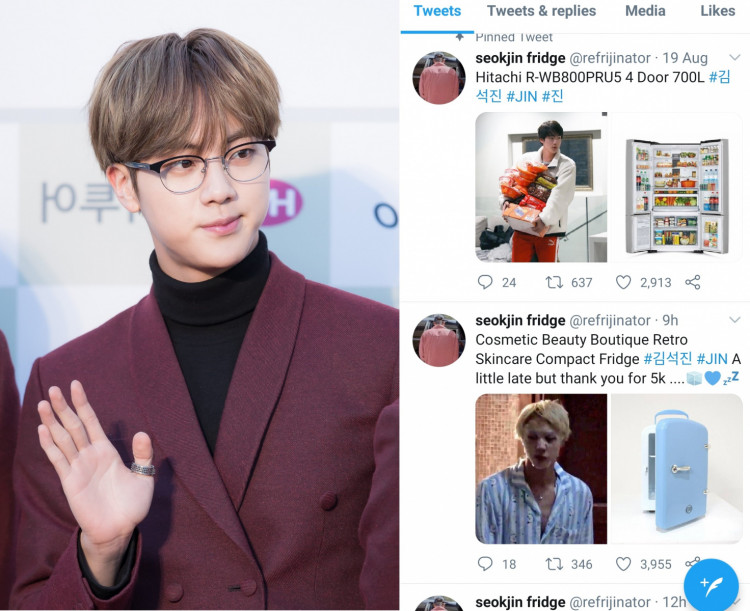 Among the many fan pages of BTS Jin, one from Twitter has made other fans of the charming gentleman come up with an online discussion. Netizens were intrigued with its unique name that could possible refer to his shoulder! Here are some reactions of Jin's supporters.
One fan shared, "I saw the page, and it feels so weird; lol, there are even more interesting photos. I can't believe this fan page was made to compare Jin to a refrigerator, lol."
The Idol With Many Fan Pages
The oldest member of BTS, Jin, is known to have several fandom pages. Some of these pages are cute, some are hilarious, but all genuinely capture the essence of the one and only Jin.
To name, one can see how unique, talented, and handsome Seokjin in Twitter pages Quokkas, Hamsters, Cakes, RJ, Refrigerators, Cats, Poems, Stray Kids' Lee Know, Art, and Tumblr Aesthetics.
Recently, in an online community, a netizen posted various captures of tweets about BTS member Jin with the title "This idol has all sorts of fandom pages."
The catchy fan page seokjin fridge compared Jin to refrigerators as it displayed photos of the BTS member. It uploaded various pictures of Jin paired with refrigerators of similar color and patterns as Jin's clothing.
But Why Refrigerator?
The fans were quick to do the math, and one netizen spilled that it seems the fan page's name was created because of one particular reason. The page was named Jin-refrigerators because of Jin's broad shoulders that are as wide as a refrigerator's width.
Moreover, many Korean netizens flocked to the online community since the post was made to express their confusion and amusement about the fan page.
Other netizens shared, "This is amazing lol," "There are so many pretty refrigerators," "This is so new and fresh lol, fan page of refrigerators lol," and "It's pretty crazy how they found photos of the refrigerator that fit his outfit. There's a lot of it too."