Celebrity
Three Things You Should Look Forward To Netflix's 'Start-Up' Finale Episodes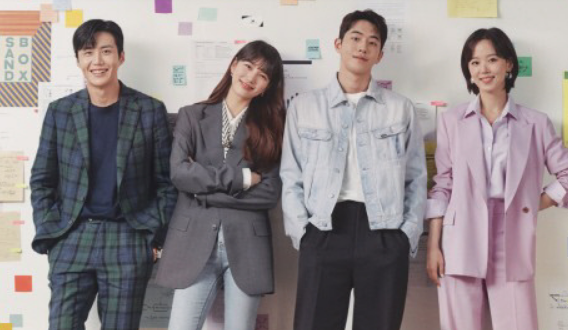 Netflix Korean drama series 'Start Up,' which features Nam Joo Hyuk and Suzy Bae, will only have two more episodes remaining before it comes to an end. Fans are now wondering what to expect in the drama's finale as the series gets more intense each episode.
On December 5, Saturday, Soompi reported the things you should look forward to ahead of the two last episodes of the Netflix series 'Start Up.' Koonb shared that spectators should only anticipate these 'three keywords' for the final episodes of 'Start Up.'
The first word is 'Start-Up,' this will refer to Seo Dal Mi and Nam Do San, who is now working under Chungmyung Company. The spectator should look forward to the most intense competition between Morning Group and Chungmyung Company as they clash on producing better products and employees.
The second word the fans should look forward to is 'Love Triangle,' as the competition for creative talents intensifies, the love triangle between Nam Do San, Seol Dal Mi, and Han Ji Pyeong is no exception. In the recent episode, Han Ji Pyeong attempted to confess his love to Seo Dal Mi but got scrapped due to numerous circumstances, which also led the way for Nam Do San to win Seo Dal Mi back again.
Fans are excited to know if Seo Dal Mi and Nam Do San will get back together or this will be the end for good. Will Han Ji Pyeong have the chance to open up his feelings for Seo Dal Mi, or will it be good if he just keeps it to himself?
Moreover, the last keyword is 'Scale Up,' which will signify the casts' willingness and efforts to go the extra mile of expanding and evolving their business.
Seo Dal Mi, together with Nam Do San of Chunmgyung Company, SH Venture Capital's Han Ji Pyeong, Injae Company's Won In Jae, shares the ultimate goal career, and that is to be able to rise above the world of start-up companies.
The question now is "Will these people working and contributing to one company be able to 'scale-up' and claim success?"' These are the things you should look forward to in the last two episodes of the Netflix Korean drama series 'Start-Up.'
The production team working on the series project gave a brief remark on the finale episodes saying the title itself will reflect the drama's final episodes. This raised the bar high for the hotly anticipated K-drama series.
"Three years ago, Seo Dal Mi, Nam Do San, Han Ji Pyeong, and Won In Jae all experienced failures and changes. Please look forward to seeing what kind of voyages these four will take in the future.'"
'Start-Up' episode 15 will be up today, December 5 at 9:00 p.m. KST