Music
BTS V Gears Up for Solo Debut with Producer Min Hee Jin - 'Nervous, but Happy'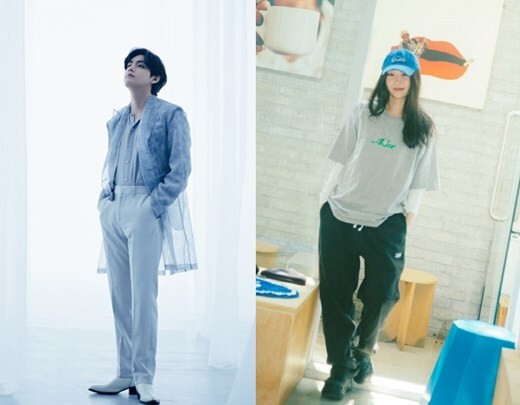 V, a member of the globally-renowned group BTS, is set to launch his first solo album in collaboration with Min Hee Jin, the chief producer at ADOR.
According to Big Hit Music on August 2, V is currently hard at work on his first solo album. Min Hee Jin, the chief producer of NewJeans at V's suggestion, will be in charge of the overall production, which includes music, choreography, design, promotion, and more, for the album.
Min Hee Jin is the representative and chief producer of ADOR, who led the success of NewJeans, and is now considered one of the most influential figures in the K-pop and domestic entertainment industry.
Producer Min Hee Jin said, "I received the offer late last year. At first, I hesitated due to scheduling, but V's attitude, passion, and the interesting tonal qualities that I was previously unfamiliar with intrigued me." She added, "What I would like to highlight again in this project is the music. I've prepared with music that reflects V's preferences, as well as the music I wanted to propose. Instead of the familiar style, we focused on music that we wanted to create and could digest well. Although it's been a relentless process, I believe we have created an exciting output."
V shared his feelings about the upcoming solo album, saying, "I'm nervous, but happy." He elaborated, "The album is thoroughly imbued with my tastes. There will be a lot to see. I prepared it thinking about how happy ARMY will be, so I hope you look forward to it. You will be able to see a different side of me, separate from BTS V, through solo artist V."
So far, V has been acclaimed for enriching his music with his unique husky yet smooth voice through his solo songs "Stigma," "Singularity," and "Inner Child." He has showcased his exceptional talent in songwriting through self-written songs such as "4 O'CLOCK," "Scenery," "Winter Bear," "Blue & Grey," "Snow Flower," and more. V has also expanded his scope of activities by participating in drama OSTs, including 'Hwarang's' "Even If I Die, It's You," 'Itaewon Class's' "Sweet Night," and 'Our Beloved Summer's' "Christmas Tree."
Details about the release date of V's solo album will be revealed in the near future.