Music
From Seo Taiji to BTS: Archive-K Opens, Offering a Glimpse Into the History of Korean Pop Music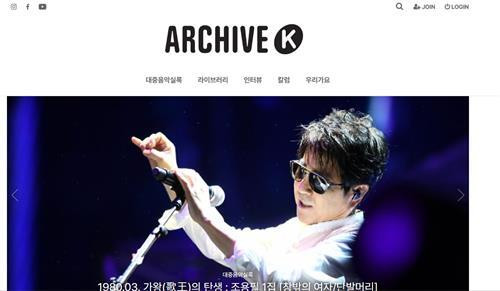 The online platform 'Archive-K' has launched on June 1st, providing a comprehensive look into key moments and figures in the history of Korean pop music. From the popularization of Korean pop culture in the 1990s by Seo Taiji and Boys, to the birth of Psy's 'Cyworld', which opened the doors to the paid digital music market, and all the way to the global phenomenon of BTS...
Choi Jung-yoon, CEO of the music content company 11018, who led this project, introduced 'Archive-K' at an opening event held in Yongsan, Seoul, saying, "This platform allows us to record and share everything about our pop music that hasn't been organized until now."
The 'Archive-K' project, which started in 2019, aims to collect records of significant events and figures in the history of Korean pop music that had not been systematically organized until now.
The project began with the program 'ArchiveK: The Legendary Stage' aired on SBS in 2021, where past popular music contents were introduced. Notable Korean artists such as BTS, BLACKPINK, Sung Si-kyung, Psy, Jo Sung-mo, and Rain participated, creating buzz by rediscovering and showcasing forgotten masterpieces and performances of Korean pop music.
11018, which also participated in the production of the broadcast, subsequently prepared an official archiving platform accessible online, and has finally unveiled its work.
CEO Choi, a former music director for various television programs like 'Ding Dong Dang Kindergarten' and 'Ambition Fulfilled,' said, "Through my work as a music director, I realized that our pop music was not well-organized or recorded, which led to this project."
The 'Archive-K' site is filled with various contents, including interviews and columns of key figures, in addition to a 'pop music record' that organizes all the events that influenced Korean pop music by era, such as major albums, the 2002 Korea-Japan World Cup, the birth of Cyworld, and a 'library' that records musicians' chronology.
Kim Jak-ga, the chief content officer for this project, emphasized, "Records such as the 'Top 100 Korean Albums' that have been revealed in the media so far were written from the perspective of critics and a few experts, failing to gain consensus," and added, "The records contained in 'Archive-K' have been selected to reflect a diverse range of perspectives, including those actually working in the music industry."
He further revealed, "We plan to add services such as digitizing albums released on LP and a community service where pop music fans can communicate in the future."